With Fox's Investment, Vice hits $1.4B Valuation

Deal pushes Vice into global media spotlight.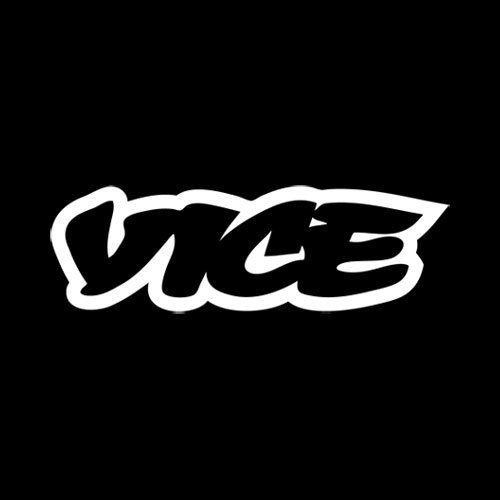 Vice Media is the latest billion-dollar new-media deal to receive the Internet's skepticism.
After news broke that 21st Century Fox purchased a 5 percent stake in Vice, a global youth multimedia publishing company, in a $70 million deal that upped the company's valuation to $1.4 billion, skeptics pounced.
The Fox deal, signed before the company split from News Corp earlier this summer, should not come as a complete surprise. News Corp's chairman Rupert Murdoch first tweeted about his interest in Vice back in October 2012, writing that the company was a "wild, interesting effort to interest millennials who don't read or watch established media."
Brooklyn-based Vice, founded in Montreal in 1994 as newsprint monthly called Voice of Montreal, rebranded in 1996 and moved to New York in 1999. Since, it has become an international youth-centric multi-platform creator of print, online, events, music, television and feature film, now operating in 30 countries.
The company's accelerated growth over the last five years was mostly driven by their online video production via digital partnerships and a popular YouTube channel.  In 2012, the company generated $175 million in revenue, mostly from advertisers.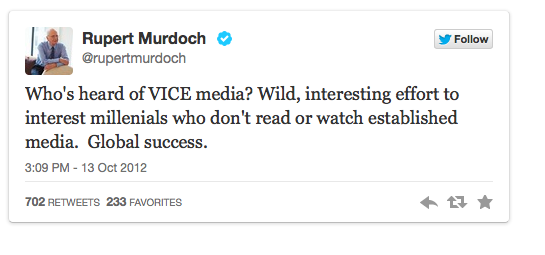 Vice Media has strategically used corporate dealings to expand its reach while still maintaining its trademark edginess. The Financial Times reports Vice maintains content-distribution partnerships with both Facebook and Twitter keeping Vice in the viral media space, a television production deal with HBO covers their film venture and sponsorships from big-time brands like Intel, GE, Toshiba, Vitamin Water and Converse help fund online video series. Plus, their international news coverage has secured the company deals with China's biggest video site, Youku, and Greece's largest media group, Antenna. The deal with Fox also helps Vice move into the UK, Germany and Italy through Fox's holdings in the Sky network, as well as in India through the Fox-owned Star platform.
Fox joins global marketing group WPP, merchant bank Raine and former Viacom chief executive Tom Freston, who brokered the Fox deal for Vice, as a minority shareholder. Collectively, they control about 25 percent of Vice with senior management holding the rest.
Murdoch's pointed interest in the company coupled with a 5 percent stake leaves an opening for the media mogul to make a much larger investment moving forward. While Vice CEO and co-founder Shane Smith says he has no plans to sell his company, he has said if a select group of corporations showed interest, it would make saying no difficult.
In an interview with Forbes, Smith contended "somebody is going to wake up to the fact that we're the largest producer of premium video content on the web, that we have the biggest brands in our pocket, so we can monetize, we have long time on site, we're great at engagement, we do experiential, we do everything they don't do."
Smith referred to digital giants like Google and Facebook by name, but Fox's reach would still serve his ultimate purpose. No, not money, but the cultural impact he could have if Vice became "the next CNN, the next ESPN or the next MTV with the largest audience in the world," he says.
Remember, this is the same publishing group that stirred up a firestorm by sending basketball player Dennis Rodman and three members of the Harlem Globetrotters to North Korea for a very public sit-down with president Kim Jong-un.
Is the company's valuation too high? Maybe, but Forbes did say Vice was edging toward becoming a billion-dollar company 19 months ago. Vice's diversification across mediums is enticing to investors, as is its ability to partner successfully with major brands on large-market ventures. All that coupled with market growth and steady revenue makes Vice a better investment prospect than you might initially think.
Meet the Author
---