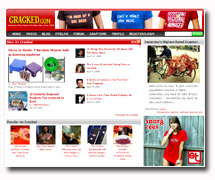 Santa Monica-based Demand Media is one of those dot.coms traditional publishers should be paying close attention to. The network of more than 60 general and special interest sites such as eHow.com and Cracked.com draws more than 60 million unique visitors per month by leveraging user-generated content including articles and video (according to a Forbes article, Demand Media has paid out more than $20,000 to one contributor at ExpertVillage.com).
It's a model that's working. Demand Media generates about $150 million, is profitable and there is talk of prepping for an IPO in 2009. But the biggest takeaway for traditional publishers isn't so much how Demand has been able to leverage user-generated content as a viable business model but the way the company has developed algorithms that predict how content will perform in terms of driving traffic.
Before we get too far into this, no, they aren't sharing the secret sauce (partly for obvious proprietary concerns but also because partnering with traditional publishers is an easy meal ticket). But co-founder Shawn Colo does offer some general tips for publishers on how to take stock of their content. "You have to follow logic of 'it's a search-driven world,'" adds Colo. "Editorial quality has nothing to do with findability but it has everything to do with keeping the audience engaged."
1. Can your editors write a killer headline? Great. Now make sure they can write it for the search engines too. "Our staff editors spend a lot of time working on titling and making sure articles are optimized for search," says Colo. "For video, editors might go back in and edit the metadata to make sure they're optimized for search as well."

2. Collect and analyze as much data as you can, including keyword pricing. "You've got to have a lot of data to really prioritize which articles work well," says Colo. "It's a combination of a lot of things we as a company have built, a lot of what we've done on the registrar side, look at key word prices as a metric of how to determine value."

3. Give content the chance to mature. In today's "go-go" Web atmosphere, constant updates are mandatory. But does that reduce the chance of people seeing it? "We worked with a publisher who had an editorial calendar that they refreshed weekly," says Colo. "But they were changing articles just as they were reaching their maturity from a search perspective. Just as they hit maximum earning potential, they were taken off the site."

4. Context, not content is king, and that's true for social media as well. "Now that you have a community tab, that doesn't mean you have a community," says Colo. "You want to make sure people can comment within articles and you need to show profiles in a contextual way, not just have them off in this dark community corner."