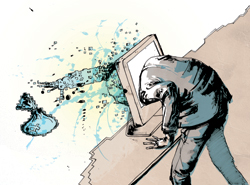 As print publishers morph their organizations from print-only publishers to multi-platform brands, a key question is, "What digital products should I develop?" When consulting with small-and mid-sized publishing groups I frequently see online products that fail that are successful elsewhere. Over time, I recognized a pattern that the successful publishers were following and came to see that timing often had more to do with success than content or market conditions.
This model breaks down the transition into four basic stages. At each stage, different online products succeed economically. As with any model, this is based on industry averages. An individual publication's experience can vary but the basic shifts in financial benefit at each stage remain the same.
THE FOUR STAGES:
Stage 1. Print content on the site
Most magazines' online presence started out by pasting articles from the print publication right into the new Web site. Even today I find a surprising number of magazines operating at this level.
Monetization strategy:
Little original content results in low traffic. Low traffic means that banner advertising will not be robust. Typically, at this stage, Web site banners are given away as "merchandising" to encourage advertisers to buy more print advertising. Some monetization comes from using the site as a cost effective way to sign up magazine subscribers.
Move to the next stage when:
The majority of Web site content is original content, not just re-purposed from the print product.
Stage 2. Outreach
When the majority of site content becomes original, traffic starts to build. But traffic is not yet at a level where it will support banners sold on a CPM (cost per thousand) basis.
One publication I worked with was having fits trying to get their sales staff to sell banner ads on their newly launched Web site. Management kept talking about how they had to pay for the investment. But the newly launched Web site generated very low traffic and low response for advertisers. As the banner ads generated little response, there were few renewals.
Expecting that a newly launched Web site will pay for itself by selling banners can be a poor strategy. At this stage of a magazine Web site's development, a better approach to shift emphasis and develop "outreach media" that extends beyond the limits of a newly launched low performance Web site.
Monetization strategy:
"Outreach media," namely newsletters, Webinars, and e-blasts, can generate high response for advertisers and money for publishers, without depending on a Web site.
Niche and mainstream newsletters can develop their own targeted circulation and become excellent response generators for advertisers independent of low traffic.
Webinars can gather small but highly targeted audiences that sponsors will pay to sponsor while the low performance of the Web site does not need to limit this.
A well developed e-blast list can be very profitable and can be built independently of the Web site.
Aside from helping to generate excellent response for advertisers, "outreach media" also helps to build traffic. The Web site is where Webinar registration will be hosted and where the full length versions of the articles distributed on newsletters are housed.
At this stage, many small and mid-sized publications sell banners as "fixed positions" where an advertiser buys a specific banner location for a month. For example, the leader board at the top of the site might get sold for a monthly fee of $3,000.
But this "fixed position" model puts the publication at a significant disadvantage when approaching larger advertisers who prefer a CPM pricing model.
Move to the next stage when:
The publication moves to a CPM pricing model.

Stage 3. Traffic building
When a publication moves to a CPM or performance model and sells out its existing ad inventory, the monetization model changes. From this point forward, every time the Web site increases traffic there is more inventory to sell. More traffic equals more inventories, and thus more revenue. The monetization game has changed.
When "more traffic equals more money," adding Web components that build traffic can be money makers. At this time, publishers add blogs, social media, and Web video. Each of these are great traffic builders that are notoriously difficult to sell sponsorships directly against.
I cannot tell you how many publishers I hear complain about how they launched several blogs which they could not sell sponsorships against. Selling sponsorships on blogs is tough. The more controversial, edgy, or unpredictable a blog is, the more traffic it generates. While advertisers may like the "high traffic" idea, I see them run from media that is "unpredictable or controversial." I have seen publications successfully sell sponsorships around blogs that have a star writer or are based on an event or highly popular theme. But most blogs go unsponsored.
Social media and video are more of the same—great traffic builders that are hard to sell ad sponsorships against. Stop thinking of them in terms of traditional "sponsorship-driven" money makers. When more traffic equals inventory, and thus more money, these products can be highly profitable.
The standard by which national advertisers are set up to buy online media is the CPM model. Because of their ability to generate big traffic immediately, large circulation magazines often start out selling with a CPM pricing model. But small and mid-sized publications should make the move as soon as possible. I know of many regional and niche b-to-b publication that are very successful selling on a "fixed position."
Make the move to a CPM model when:
1. You are losing money. One publisher on a fixed banner pricing model expressed frustration because despite her traffic doubling in the past six months, she found it impossible to double rates on her current advertisers. With her traffic set to double again in the next six months, she realized she was leaving money on the table. A CPM model meant she would not have had to raise rates, she just would have more inventory to sell.
2. Your advertisers ask for it. I worked with a small publisher in the food service industry whose entire advertiser base was Fortune 500 corporations. Even though their monthly Web traffic was tiny, they had to go with a CPM pricing model immediately because all their national advertisers demanded it.

3. Your market has been educated. I have seen many advertisers in regional and smaller b-to-b magazines resist the CPM model. With fixed positions, they can see what they are paying for. With a CPM model, these same advertisers may not see their ad when they visit. Before a publication makes the move to CPM, they need to educate their advertisers on the benefits of a CPM model.
Move to the next stage when:
You have reached your Web site's basic traffic potential. Without a major redesign or significant investment you predict little or incremental traffic growth.
Stage 4. Destination stage
The focus at this stage is twofold. First, is to raise the importance of the site to its visitors as a frequently visited destination, seen several times a week or even daily. Editorially, this often means evolving into a news-based site.
Monetization strategy:
On the ad side, the goal is to make each visitor more responsive to the advertiser's messages. This is done through contextual advertising programs where an advertiser's message appears alongside relevant content. The result is higher relevancy of the ad message to the visitor's interests and higher clickthrough rates occur.
For many who have been through this process, this four step model may seem simplistic or even obvious. But for many publishers still figuring it out, this model can provide a guide for moving profitably from print-only to an integrated product brand.
Josh Gordon is president of SmarterMediaSales.com, a training and consulting company that helps publishers grow their online business. Gordon also publishes a blog at AdSalesBlog.com.