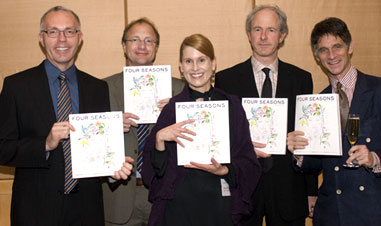 The Four Seasons team: John Hamilton, contributor; Mark Caskie, editor, World of Four Seasons; Susan Weissman, executive editor; Jaimey Easler, design director; and Duncan Christy, editorial director.
Who says we're in a recession? Probably not Four Seasons magazine.
The magazine held a cocktail party last night in the Cosmopolitan Room of New York's Four Seasons to celebrate its relaunch under Pace. One hot topic of conversation among the 100 or so guests was the number of ad pages it managed to secure.
"I couldn't even find the editor's letter," someone said to me. Why? Because it was preceded by 46 pages of ads for Gucci, Versace, Prada, Sotheby's and other brands I could never afford. (By my count, the ad page total is 81 out of 176.)
Apparently, I can't afford the magazine either: "It's free as long as you can pay for the room," said a woman introduced as "marketing guru" for Four Seasons, "which probably makes it the world's most expensive magazine."
On a side note, the editor's letter offers an interesting reflection—that magazines should resemble a great dinner party, with the "liveliest assemblage of guests drawn from all quarters of life," whose voices "should be neither chorus nor babel, but an interesting, even fascinating, series of soloists to whom we listen with pleasure." I wonder if they need to be able to afford the magazine too…