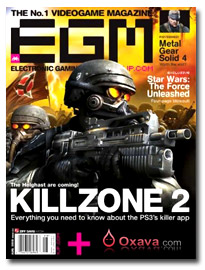 After nearly a year since Ziff Davis Media shuttered the magazine, founder Steve Harris says he expects to relaunch Electronic Gaming Monthly with an April issue, due out in March. Previously, Harris eyed December 1 as the date the title would publish again in print and digital.
Now, in addition to nailing down his advertising sales team, Harris has entered into an agreement that has Time/Warner Retail Sales & Marketing handling the forthcoming magazine's newsstand marketing and sales efforts next year. Each newsstand copy, he said, will include a special code that will "upgrade" readers' access to the magazine's weekly subscription-based interactive version, EGM(i): The Digital Magazine, which will feature original content as well as exclusive extensions of the print articles.
According to Harris, the combination of EGM's print and digital formats will enhance the brand's overall "value proposition." "Not only does the digital companion allow us to offer additional content that is complementary to the print magazine, but it also gives us a way to communicate with our readers and update the print product in an ongoing manner," he said.
In January, Ziff Davis Media shuttered EGM in conjunction with its sale of the 1Up Digital Network to Hearst's Ugo Entertainment—effectively removing the company from the print magazine publishing business. Harris in June entered into an agreement to acquired certain EGM assets for an undisclosed sum.