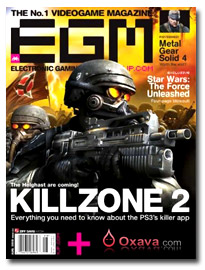 Electronic Gaming Monthly, the former Ziff Davis Media title that the publisher shuttered in January, is expected to return to print before the end of the year. Founder Steve Harris, who purchased certain EGM assets from Ziff this summer, said the magazine is on track to relaunch in print and in digital formats on December 1.
"We plan to produce a newsstand product that will ramp up to monthly frequency in print during the first half of 2010," Harris wrote in an e-mail to FOLIO:. "In some respects this was the same strategy employed when the magazine was originally launched. As I've said from the beginning, it is more important to do this right then do this fast or try to adhere to a schedule that doesn't make financial sense."
The digital edition, Harris said, will be produced weekly and will be available by subscription only.
Ziff Davis Media shuttered EGM earlier this year in conjunction with its sale of the 1Up Digital Network to Hearst's Ugo Entertainment. At the time, CEO Jason Young said the actions helped the company "pay down debt and shift our full focus to our core PCMag Digital Network business." For an undisclosed sum, Harris in June entered into an agreement to re-acquire certain EGM assets and said he planned to relaunch sometime during the second half of 2009.
Harris said he is "fully funded" for the relaunch although additional rounds of financing "may be pursued in the future to expedite certain elements of our business."