Fortune Relaunches iPad App With Free, Paid Content Mix

New dashboard feature seeks to lure in non-subscribers.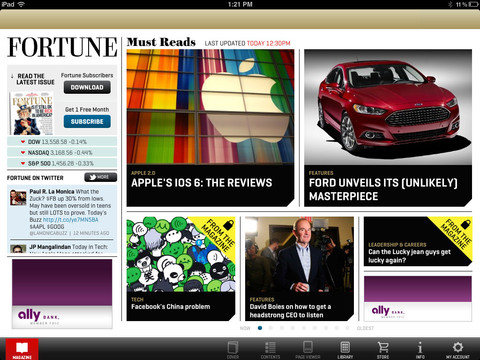 In an effort to gain subscribers, Fortune has relaunched its iPad app with a mix of free and paid content.
Fortune.com managing editor Megan Barnett says the previous version of the app-which offered single-copy or subscription options for the magazine but no free content or access to the website-was frequently downloaded, but left many users wanting. The immediate goal is to bring those people back.
"We had quite a lot of people who downloaded our app and didn't buy a magazine," she says. "So we want to start with getting those people back into our app."
"With magazine apps, Apple makes us say that they're free to download, but then if you downloaded the Fortune magazine app, you'd have to pay for a magazine," she adds. "We wanted to create this dashboard so that when people download an app for free, they actually do get something for free."
See Also: More Time, Inc. Subscribers Get App Version for Free 
The new eye-pleasing dashboard built around a clean, non-intrusive user-interface intersperses stories found on Fortune.com alongside subscriber-only content from the magazine. The difference between the two is clearly marked and users can easily navigate between free and paid options.
Barnett says the ratio of free to paid content will vary, but as of Thursday, each of the 12 dashboard pages featured three free and two paid stories. Likewise, she says, placement of the free and paid content will change.
"That's something that we're going to be flexible with," she says. "It's something that we're going to play with going forward based on how we see users interacting with the content."
Barnett characterizes the effort as a "first step" in a multiplatform strategy that Fortune plans to revamp in the near future. Bringing the app to Android systems is on their radar, as is adding customization and recommendation options to the existing platform.
To stay updated on the latest FOLIO: news, become a Facebook fan and follow us on Twitter!
Meet the Author
---