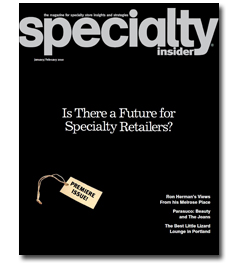 Ralph Erardy, the former senior vice president and group publisher of Conde Nast's Women's Wear Daily, has founded his own media company and plans to launch a trade magazine before the end of the month.
The company, Insider Communications Group, is aiming to debut Specialty Insider, a title targeting specialty apparel retailers, on January 25. The quarterly title will carry an initial controlled circulation of 15,000.
"A lot of people have told me I'm crazy for launching a magazine right now," Erardy told FOLIO:. "But, if you have a good idea, people will listen and if they like it, they'll buy it. I think the economy is beginning to turn around and I've since received a lot of support. If the product is right, which we think it is, now is the time to get it started and it'll grow by itself and take off."
In addition to the edit staff, Erardy, who also serves as the magazine's publisher, has three former WWD sales staffers working with him at Specialty Insider. Erardy first joined Conde Nast in 1994 as publisher of WWD for about eight years. He then served as senior vice president and publisher of sister title HFN before returning to WWD in early 2002. He was let go from Conde Nast in November 2008 as part of a company restructuring, he said.
Insider Communications Group partnered with advertising/marketing firm Solveris on the launch and plans to hire at least one more sales staffer, based in Los Angeles.
According to Erardy, Specialty Insider will not compete directly with WWD, which is published by Conde Nast's Fairchild Publications. "It wouldn't be wise to compete with WWD," he said. "No one does retail news better so we're not going in that direction. Specialty Insider will focus on retailers surviving the fashion industry at retail."
The launch issue of Specialty Insider will have 52 pages with about 18 devoted to advertising, Erardy said. "I might consider moving more to a paid model in the future, after readers get a feel for what we're doing."