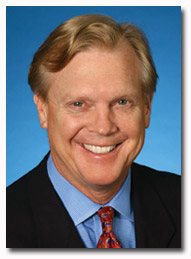 Ex-Penton Media CEO Tom Kemp last month left his post as managing director at Veronis Suhler Stevenson to launch a new company with the intention of acquiring b-to-b media business in partnership with private equity.
Kemp's new company, Oakstreet Media, is a business he characterizes as an "investment vehicle" for acquiring lower- and middle-market business media and information properties.
"My goal is to invest in a company, with a financial partner, and then run that business as CEO," Kemp tells FOLIO:. "My experience in the private equity world has given me valuable insights into how to do that and how it works. What I'm looking to do here is much more entrepreneurial than working in a large corporate environment."
Kemp says he has "whittled down" a list of about 60 prospective private equity investors down to a small group of "interested parties."
Despite the sputtering economy, and several weeks of grim industry news, Kemp says he is optimistic about the overall state of b-to-b media. "Outside of the gloom and doom you read every day, this isn't a bad environment," he says. "In the lower- and mid-markets, where you are looking for debt structures of less than $100 million, that money is available. Plenty of private equity money has been raised in the last few years and there are people looking to invest.
"I'm attracted to businesses that are more narrowly focused in terms of the served market, but are deeply ingrained through multiple channels of information flow through those markets," Kemp adds.
While Kemp is interested in media companies with a mix of print, online, information and event assets, he says that a b-to-b media company's digital strategy is critical to its survival. "If companies don't effectively migrate their business to encompass and develop e-media, then they don't have a future. They will become that dinosaur that everyone is talking about."
Kemp's move is significant because of his stature. He is among a very small handful of b-to-b publishing operators widely recognized as the leading thinkers in the industry. Kemp also has unusual financial expertise, having served as a public-company CEO at Penton and more recently, with one of the media business' leading investment firms, VSS.
After joining VSS in 2004, Kemp was instrumental in the fund's investments in b-to-b businesses such as Access Intelligence, Schofield Media and Red 7 Media—FOLIO:'s parent company. Before VSS, Kemp served as chairman and CEO of Penton Media for eight years, and spent more than 20 years at Miller Freeman where he served as president and chief operating officer.
"I hope to acquire a business with $50 million in revenue and in five years build it organically and through bolt-on acquisitions to a $100 million-per-year business," he says. "I want to help build a meaningful, sustainable, high quality and culturally attractive business that people want to work at and invest in."