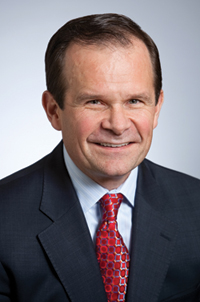 After a very public parting with Time Inc. in February, former CEO Jack Griffin is striking out on his own. Griffin tells AdAge his new consulting firm, Empirical Strategic Advisors, is already working with six clients.
With a roster including a digital content company, a newspaper company, a tech company and a magazine publisher, Griffin seems ready to bring his clients into the digital era, "The challenge that magazines have is the whole business structure was predicated on the direct relationship with the customer and you know who your end user is all the time except on newsstands. And now what I think the industry has to do is operate in a world where there are a lot of intermediaries."
Griffin will also begin work as a senior advisor with global business-advisory firm AlixPartners; according to a news statement, AlixPartners focuses on enterprise improvement; turnaround and restructuring; financial-advisory services; and
information-management services
Griffin's interview with AdAge marks the first time the former Meredith executive discussed in-depth what surpassed at Time Inc. At the time of Griffin's departure, Time Warner CEO Jeff Bewkes released a memo to employees saying, "Although Jack is an extremely accomplished executive, I concluded that his leadership style and approach did not mesh with Time Inc. and Time Warner."
Of his experience at Time Inc., Griffin tells AdAge, "Could I have spent more time selling things in? Probably. But I did what I thought was right at the pace I thought was appropriate given the circumstances of the industry. I'm very disappointed it didn't work out. But I also point to the results for the period I was there. It was a short period, but if you look at Time Inc. results in the first two quarters of 2011 they were quite good."
Griffin joined Time Inc. in August 2010 from Meredith Corp., where he acted as president of the national media group.
Currently, Time Inc. has not named a successor in Griffin's place; John Huey, Maurice Edelson and Howard Averill form the interim management committee that runs daily operations at the company since Griffin's departure.