Former Employees to Relaunch 76-Year-Old Shuttered B-to-B Title

Industrial Equipment News to return in September.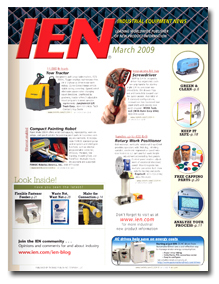 Thomas Publishing has licensed the rights to publish the U.S. edition of Industrial Equipment News—the 76-year-old monthly trade title it shuttered in March—to a group of former employees who expect to relaunch the magazine in September.
"This is a well known and respected brand in the industrial manufacturing market," TCC Media managing partner Todd Baker told FOLIO:. Baker formerly served as IEN's director of product news media.
"The advertising base seemed to stabilize in the last few months, at a lower level than in previous years, but was not declining further," he said. "We felt that with a lower cost structure and a more streamlined operation we could continue to focus on producing high quality editorial and maintaining a strong print circulation while growing the online side of the business and be profitable.
"We also know that the recession won't last forever and a well-positioned integrated media property with the right cost structure will have opportunity for future growth," Baker added.
Baker is joined at TCC Media by former IEN publisher Ciro Buttacavoli and Cal Calhoun, a former independent rep for the company.
TCC Media plans to relaunch IEN with a bimonthly frequency and maintain its 200,000 circulation, Baker said. Its Web site, IEN.com, will go live June 1.
Thomas Published attributed the folding of IEN to "challenges of the current economy." It was said that about a dozen full-time and a dozen contracted positions were eliminated as a result of the closing.
Thomas continues to publish seven international editions of the magazine.
Meet the Author
---