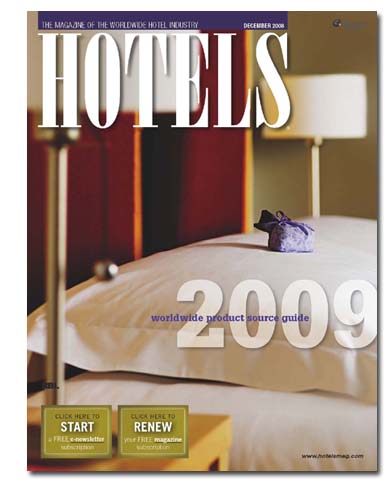 Not long after acquiring shuttered HOTELS and Foodservice Equipment and Supplies from Reed Business Information, Dan Hogan has turned around and sold HOTELS to Chicago-based Marketing & Technology Group. The deal includes the print magazine as well as its event assets, hotelsmag.com, a series of e-newsletters and sister publication HOTELS' Investment Outlook.
Financial terms were not disclosed.
Headed by a number of former Reed/Cahners staffers, the Marketing & Technology Group publishes Meatingplace for the North American beef, pork and poultry industries; Plate, which serves the U.S. foodservice industry; and CarneTec, which targets the Latin-American meat and poultry industries. The Marketing & Technology Group expects to relaunch HOTELS with a June issue.
"Dan's desire was to continue publishing HOTELS, but avoid the time and cost of building an infrastructure from scratch (print contracts, equipment, support staff, benefits, etc.)," Marketing & Technology Group editorial vice president Bill McDowell tells FOLIO:. "He liked what we had done with Plate and Meatingplace and concluded that this would be a good home for him, his team and the brand."
As a result of the deal, Hogan—who formerly served as publisher of HOTELS—and a "core" team of ex-staffers including editor-in-chief Jeff Weinstein and sales managers Amy Vaxman and David Wood will join Marketing & Technology Group.
"Our plan is to immediately begin restoring some of the quality attributes lost during all the cost-cutting at Reed: return to high-quality paper, larger trim size, boost minimum folio, perfect binding, etc.," says McDowell. "At the same time, we'll begin work immediately to retool HOTELS' online product. HOTELS has always been a premium brand. Dan knew we would treat it as such."
HOTELS' Investment Outlook, is expected to resume publication sometime in the fourth quarter, the company says.