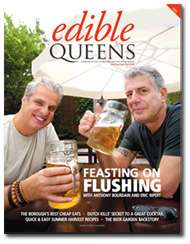 The list of laid off magazine editors feeling the entrepreneurial itch is growing.
Leah McLaughlin, a former brand editor of Rodale's Prevention, is set this week to debut the premiere issue of edible Queens—a print title devoted to "celebrating the food culture of New York's most diverse borough."
After being laid off from Prevention in April as part of a digital restructuring, McLaughlin purchased the rights to edible Queens from Edible Communities, Inc., a national network of more than 59 local food publications that launched in 2001 as a local Ojai, California newsletter. While there are edible editions in Brooklyn, Manhattan, and New Jersey, McLaughlin, the new title's editor and publisher, said she was surprised to find that "no one had jumped on Queens yet."
Edible Queens will publish quarterly and carry a $28 annual subscription price. It will have an initial circulation of 20,000. McLaughlin said her goal it to reach 40,000 circ. by the end of its first year.
The magazine also will be distributed free of charge to its advertisers. For example, if a supermarket buys a page in the magazine, in return edible Queens will list them on its site and in the magazine as a distributor. Meet-and-greet events can then be scheduled, McLaughlin explained, which will be co-sponsored by another advertiser (in addition to supermarket).
For these events, "We pull every marketing lever we have: Facebook, Twitter, online marketing, e-newsletters eventually, event promotion, to remind readers of our distribution points, and every time a reader goes to find an issue they're stepping into an advertiser's place of business," McLauglin said.
Prior to Prevention, McLaughlin served as executive editor of Natural Health, nutrition director at Fitness and food director at
First for Women.