Former Penton CEO, Sal Marino, Dies at 87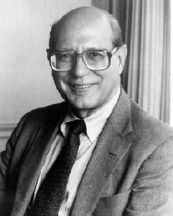 Retired Penton Publishing CEO and IndustryWeek magazine founder Sal Marino died Nov. 22, Thanksgiving Day. He was 87.
Marino-considered a giant in b-to-b publishing-joined Penton in 1952 as a promotion and research manager of Steel, the Metalworking Weekly, according to his obituary. He was later promoted to business manager and then to publisher. In 1964, he was elected as a board member and then president of Penton in 1971. He took the reins as CEO five years later, in 1976. At that time, the company's revenues were $16 million. When he retired in 1995, revenues had reached $200 million.
"He was the face of b-to-b," says Penton Media CEO John French, who worked with Marino when VNU's Electronics Group was purchased by Penton in 1989. "I'll always have a fond place in my heart for Sal. He was a true mentor and gave people opportunities. He had a passion for Penton and ran the company right."
After his retirement, Marino continued to write the weekly column "Straight Talk," in IndustryWeek magazine. Marino is survived by his wife, Catherine; sons, Carl and Michael; and a sister. Contributions can be made to: The Sal F. Marino Memorial Fund, DePaw University, attn: Steve Setchell, 300 East Seminary St., Greencastle, Ind. 46135.
Meet the Author
---