Former Newsweek Reporter Launches 'Hands-On' Educational Site for Digital Novices

KnowledgeWebb features courses on creating, using digital applications.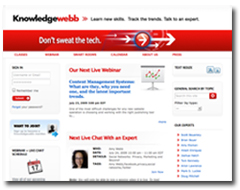 While expanding your e-media operation should be a no-brainer, for many traditional publishers the process is more complicated than it might seem.
That's why Amy Webb, a former Newsweek and Wall Street Journal reporter, launched KnowledgeWebb.net, a Web site that aims to educate novices and help technophobes embrace the digital evolution and create their own online services.
Knowledgewebb targets individuals and businesses—including newspaper and magazine publishers—with varying degrees of intention; from launching and online business to tuning up and existing system. Users can participate in self-directed courses and ongoing Webinars on topics including blogging, content management systems, databases, Flash and mobile.
"Even if a magazine has an established business, chances are good that they're looking to change their content management system, or add a mobile application, or launch a new sub-site in the next few months," Webb said.  "We offer tools to help even C-level folks learn about the Web, mobile and digital content so that they can make smarter decisions."
Knowledgewebb also features Smart Rooms, discussion forums Webb said encourage collective learning. "Our lessons differ from others offering self-directed learning because they are skill-specific, don't require Flash or lots of bandwidth, and always include a hands-on activity," Webb said.
'Don't Sweat the Tech'
With the tagline "Don't sweat the tech," Webb soft-launched Knowledgewebb in April after a number of weeks developing the site, with assistance from San Diego-based development firm Achieve Internet, using Drupal. So far, the site has more than 1,200 members. A year-long membership to Knowledgewebb costs $129.
Webb said she was inspired to launch Knowledgewebb, initially, to help the mounting number of journalists laid off as a result of so many newspapers and magazines that have gone out of business. After producing a number of free Webinars and speaking at industry conferences, Webb realized the need to expand one's digital skills transcend to established publishers, too.
"So, I started building a site that would enable hands-on learning, live chats with experts in their fields, discussion forums where people could post examples of their work or ideas for Web sites and get instant feedback," said Webb. "It wouldn't matter what the newsroom budget was or if you couldn't afford an air ticket and conference registration fee."
Knowledgewebb also attempts to help members stay abreast of various changes happening in mobile and online. "To that end, we interview the creators of applications, sites, gear, etc. and feature a short Q+A with them a few times a month.  We then give our members direct contact information, should they want to learn more," Webb said.
Meet the Author
---