Former McGraw-Hill CEO Dies

Harold W. McGraw Jr. led company to $1 billion in revenue.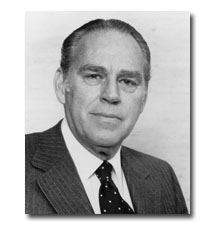 Harold W. McGraw Jr., chairman emeritus and former CEO of publishing giant McGraw-Hill, died Wednesday. He was 92.
McGraw [pictured], grandson of company co-founder James H. McGraw, joined McGraw-Hill as president in 1975 and was later named CEO. He helped guard the company against a takeover attempt by American Express in 1979 and steered it to $1 billion in revenue for the first time in 1980. McGraw retired as president and CEO three years later, but stayed on as chairman until 1988 when he was named chairman emeritus.
"My father was a passionate and principled leader, who led McGraw-Hill with an educator's heart and an insistence that the underlying principles guiding the company since its founding in 1888—integrity, quality, value and excellence—would endure," McGraw's son and current chairman, president and CEO Harold McGraw III said in a statement. "He was an inspiration to us all and deeply loved McGraw-Hill and its many contributions to society. He had a special affection for all employees and their commitment to the future and well-being of the company."
The Aviation Week publisher and Standard & Poor's owner serves the financial, education and business information sectors. The company sold BusinessWeek magazine late last year to Bloomberg LLC.
McGraw is survived by three children, eight grandchildren and two great-grandchildren.
Meet the Author
---