Former Cygnus VP Launches Magazine

Airport Improvement to compete with Cygnus titles for advertising dollars.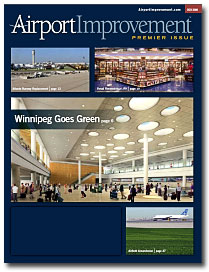 Another former Cygnus Business Media executive has launched
a competing magazine.
Paul Bowers, who
was laid off as group vice president in July as part of a restructuring, last week launched Airport Improvement magazine. With
a 5,200 initial print run, the magazine—which publishes six times per year—targets
airport management, consultants and vendors.
"Markets change and aviation is no exception," Bowers tells
FOLIO:. "I simply am providing the market with a product that does what no
other can do."
Earlier this month Greg Napert, a former Cygnus group
publisher who
resigned from his post along with three of his former colleagues, launched
Director of Maintenance magazine, which targets aircraft maintenance
business leaders.
Airport Improvement, to a degree,
will compete for advertising dollars with a number of Cygnus' aviation titles,
Bowers says. In addition to the magazine, Bowers has launched Chapel Road
Communications, a company he says is a platform to either launch or acquire
other b-to-b products.
"Launching brands is something that was in the DNA with
longtime Cygnus employees," Bowers says. "That's why you've seen so many of
them do it on their own. Basically if conditions aren't conducive to doing this
at Cygnus then they do it where the market will reward their efforts."
Bowers was laid off as Cygnus group vice president when
co-CEOs Carr Davis and Anthony O' Brien created
five director positions to oversee the company's portfolio of 15 brands.
Bowers, who had been with the company for 16 years, oversaw 13 publications and
a number of public safety portals, including firehouse.com.
Bowers joins a growing list of former Cygnus staffers to
strike out on their own. In 2005, Mike Domke—a former publisher of Cygnus' OEM
Off-Highway magazine—launched Milo Media, which now publishes eight magazines
covering the construction, industrial, power, lifting and utility markets. In
November, Domke hired former Cygnus staffers Wolfgang Neuwirth and Greg
Gerber to launch RV Industry News. Neuwirth had served as publisher and Gerber
as editor of Cygnus' RV Trade Digest.
Meet the Author
---