Forget Digital-First, How About Technology-First?

Cygnus CEO John French on his progress with rebuilding the b-to-b media company.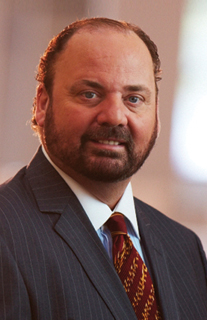 Cygnus Business Media CEO John French, who was brought on three years ago just as the b-to-b media company came out of bankruptcy protection, has spent that time making some dramatic moves in an effort to turn the company around. While it hasn't quite reached his original goal of $75 million in annual revenues—a benchmark he says is close—Cygnus increased its operating margin by 20 percent in 2012.
Magazines still represent a good portion of revenues—at about 50 percent, down from 60 when he took over— but both events and digital have been growing at double-digit percentages year over year.
Some of this is attributable to a major reorganization that aligned the brands into three primary affinity groups: construction, public safety and a combined agriculture, technology and transportation group. Plus, Cygnus has poured $4 million into its tech infrastructure to overhaul its database and rebuild its digital operations. This last point is likely the most significant move for French, who describes Cygnus as a technology company first, media company second. The technology, he says, is what drives the data services that now form the backbone of everything the company sells to its marketing customers, and measures how readers engage with the brands.
Here, French describes the progress Cygnus has made in the last three years and where he's taking it next.
FOLIO: Compare Cygnus as a company from when you took it over to what it's like now.
John French: Generally, everybody's in really good spirits about the performance of the company.
When I got here in September 2009 the company was emerging from bankruptcy. It was a pretty tough way to start—there was absentee management and the CEOs beforehand had stripped the company, it was a really tough time.
Jump forward three and a half years, and the biggest changes I see are not only are we hiring and expanding, we're hiring at will.
From a financial standpoint, in the early days coming out of bankruptcy it was touch-and-go. It was tough, and that's why I hired one of the most experienced CFOs in the industry, Paul Bonaiuto, who had been the CFO of Journal Communications. Fast forward to today and the company's performance financially couldn't be better.
In 2012 we increased our operating margin by 20 percent year-over-year.
That's something I would put on any scoreboard at any b-to-b company, considering the economy. On the digital side we were growing the top line 20 percent year over year.
However, the one-third of the company that continues to get hammered is public safety—everyone's getting hammered there. And there we just watched our costs and we dropped less than the other guys from a revenue standpoint.
FOLIO: Is the hiring across the board, or are you mostly hiring for, say, digital?
French: Most of our hiring right now continues to be in digital and in the events group. The events group is another great example. It was underserved and separated from the rest of the company and underperforming. I changed out all the management there from top to bottom and we have fresh new people who came in there in the last year and a half. And our show business is growing dramatically.
Between 2011 and 2012 we invested just over $4 million into the digital infrastructure of the company. And for a company our size that's a lot of money. We paid it off in 18 months out of cash flow, it didn't deteriorate our earnings and we have a state-of-the-art IT infrastructure.
FOLIO: You reorganized Cygnus under its three affinity groups. How did this change your business?
French: We took a chance and we put every product in a market place under one leader. We have three EVPs and they control everything that we do in those verticals.
Once they were under one leadership we could go into our major customers and put together a proposal that covers the entire landscape. We're pulling market share that way because people see us as a very easy company to do business with, plus they can buy through one door and they can pick up all of our platforms.
FOLIO: So what didn't work so well?
French: We also tried to integrate all sales under one VP of sales and that turned out to be a mistake. We killed the idea. People who sell the magazine, people who sell online and people who sell the booths are still in the same place. But they come together at the senior level of the affinity group and they report up to the EVP. So we still have that one single span of control, and it works for everything—content, business development, everything but the sales channel. That still has to be independent because people are used to selling booths and not advertising pages.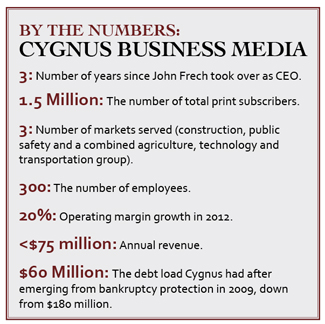 FOLIO: You've defined Cygnus as a technology company. How does that impact how you do business as a media operation?
French: This is where I get in trouble with my peers, but I'll say it anyway. I think one of the more over-used terms in b-to-b today is 'marketing services.'
I'm not sure anyone really knows what marketing services is. It's a convenient place to go, it sounds more sophisticated than just doing the things we've done before.
It's more important to understand what happens at the point of engagement.
Anything we've ever done since the first day I sold an ad thirty years ago is based on proving what you bought from me helped increase your sales or was good for market share or share of mind for your company. 
But proving that has become unbelievably sophisticated. And so we've built the Cygnus Analytics Program which takes that point of engagement and asks, what happened? Who's engaged, why did they come to you, why did they choose that particular platform, what message do they want to receive from you— how are you going to turn that into a sales process?
And part of the Cygnus Analytics Program is our Return on Engagement Report, which is a sophisticated data-driven analytics product. When we go into our big customers, we can talk to them about how they're viewed, how their competition is viewed and what's working—what gets the most engagement. And because of our integrated databases we're able to gather audiences that they've never seen before.
That's where b-to-b is going, it's delivering a new audience. It's not the same 50,000 people that read the magazine, the same 5,000 that go to the tradeshow. It's developing new audiences that the publisher and the customer have never seen before.
But in order to drive all of that you have to be really good at the technology, and that's why we're a technology company first.
FOLIO: How has this changed the way your sales force goes to market?
French: We turned over 40 percent of our sales people in the last 18 months because this demands a level of sophistication of talking to our advertisers. All of that data is unvarnished.
They're not getting this data from anyone else, it works, their sales people love it, their marketing machines love it, and we say we're not going to charge them for the data, but we want 10 percent more of their business than last year. If they tell us their budget is flat, we say we understand that, but take it from another part of your schedule. We're picking up share of dollars that way and that's why it takes a much more sophisticated, stronger salesperson to do it.
FOLIO: How does that sales approach impact share of dollar across print, digital and events? Or does it even matter, as long as you're increasing your customers' spend?
French: The customer is going to buy whatever brings them to the point of sale as fast as possible. And by nature, we're getting more information from the digital products than we do from print. But while we're growing very fast in digital—20-25 percent year over year on already big bases—our print is declining. But we're not declining as quickly as other companies. I've seen declines of 5, 6, 7 percent—we're less than that.
I'm not sure what that means longer term—we do want to be less dependent on print. But when I first came here, roughly 60 percent of the company was print, now that's hovering down around 50 percent and it's being supplemented with online and tradeshow growth. In some cases, people still think that's too print heavy, but it depends on your market.
If you put all the platforms together, by presenting all this data, the customer votes with their feet. They tend to consume more and more digital. They certainly increase their sponsorships in our trade shows and it seems that print is declining less than I've seen at our competitors.
FOLIO: When you joined as CEO, you were forecasting revenues to be around $75 million by this point. Have you hit that mark?
French: No, we haven't hit that mark, but we're around it. Part of the reason is if you look at the year-over-year growth, outside of public safety, it's strong, robust, double-digit digital, it's the public safety sector that's weighing down the rest of the company. And it's true of our competitors too.
If you're looking to better understand how your brands can thrive in a converged media landscape, register now for FOLIO: and min's MediaMashup event on April 16.
Meet the Author
---