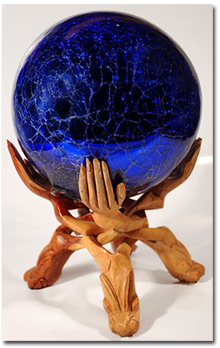 FOLIOmag.com recently posted its annual round up of magazine and media predictions for the coming year, collected from a wide cross section of industry professionals. All in all, we came up with roughly 115 predictions from more than 20 people.
Until we posted it, that is.
Since Thursday morning, I've received e-mails and phone calls from another small army of wanna-be fortune tellers—all wanting to add their illuminations about 2010. And, of course, I couldn't resist. Below are the additional predictions I've collected so far.
Do you have a prediction(s) about what's in store for 2010? Will print advertising evaporate completely? Will mobile applications take over? Will Jan Wenner ever tend bar at his Rolling Stone-themed restaurant?
Let me know. Send your predictions to jfell(at)red7media(dot)com, or leave them in the comments section below.
NAME: Kirk Cheyfitz
TITLE: CEO, Story Worldwide
PREDICTION(S): Late in the year, one major magazine—probably one of Meredith's, since Meredith actually owns a digital marketing agency—will wake from the publishing industry's self-induced coma and re-invent itself as a content marketing agency specializing in reaching the niche audience that reads the magazine. From then on, that lone magazine will make tons of money creating content for brand marketers—the kind of valuable entertaining, informative content that is taking the place of advertising.
NAME: Rob Haggart
TITLE: photo editor, formerly of Men's Journal, Outside
PREDICTION(S): We will see fire sale buyouts (à la BusinessWeek) of a few big titles rather than shuttering (à la Gourmet).
More photographers will get into the workshop, book writing and teaching side of the photography business. This is proving by all appearances to be super lucrative, but will get very crowded and competitive as people with an impressive oeuvre enter the market.
Photographers who market with ideas and innovation will be snapped up by marketers who need fresh ideas and innovation.
Product photography will heat up as companies realize products online need great photography to convert online shoppers into buyers.
Local markets will go red hot as local online markets get competitive and companies that normally needed no photos for a yellowpage ad now need lots of photography for a nice looking Web site.
Video goes nuclear, because nothing is commissioned anymore without video and hey, "doesn't that camera shoot video too."
NAME: Gordon T. Hughes
TITLE: president and CEO, American Business Media
PREDICTION(S): We're calling print flat to down 3 percent in 2010 after a year (2009) that it was down 30 percent.
Digital, which was down probably 3 percent in 2009, we're calling up between 3 and 6 percent next year.
Custom, which was up probably in the 6 percent range, we're saying will be about the same, up another 3 to 6 percent off of that in 2010.
We believe that rich data has excellent potent for member to take their intellectual properties, their content and be able to monetize it without talking about ad revenues. We see that as a continuing growing sector for our members.
Finally, one area we believe will be disappointing will be face-to-face. 2010 will probably worse than 2009, so we're saying it'll be down about 20 percent.
NAME: Paul Conley
TITLE: owner, Paul Conley Consulting
PREDICTION(S): This will be the year of the tier—in which poor rates for online advertising will split the b-to-b publishing game into three distinct levels. (And since there's very, very little room for ad-supported, mid to high quality models in this three-tier system, I expect more bankruptcies and closures in 2010.)
1. Content mills like Associated Content and Demand Media already dominate the lower tier in b-to-c—dumbing down the market and pushing costs so low that professional writers are fleeing and professional publishers are abandoning "evergreen" stories, how-to articles and similar search-driven, long-tail tactics.
In b-to-b, watch for a rise in such crappy-but-cheap competitors (an e-mail newsletter company approached me a few weeks ago looking for help finding b-to-b journalists who would write for $15 per 600-word story!)
2. The middle tier will be most notable for its absence of middle men! No aspect of publishing is better positioned for growth in 2010 than content marketing—as marketers continue to learn they can get better results if they produce their own content.
In b-to-b, look for content marketing to produce extraordinary levels of sophistication and quality (like IBM's avian flu site or Boeing and GM's early forays in this space a few years ago.) Watch also for a shift in staffing as the best journalists find they can make more money (and face fewer ethical pressures from unscrupulous bosses) by moving into content marketing.
3. The top tier, as always, will be reserved for high-end, paid-subscription products. And, as always, the top tier will be dominated by data, pricing, trading and credit products in b-to-b.
But in 2010, increasingly desperate publishers will talk loudly and often about forcing users to pay for additional forms of online content. Delusions will grow commonplace, as companies insist that the poor quality stuff they've always given away is actually high quality material that can now be sold.
NAME: Gordon Plutsky
TITLE: director of marketing, King Fish Media
PREDICTION(S): Here are four.
1. More and more pure play online companies will discover multi-channel media and marketing paired with content drives customer engagement. Look for more online retailers to create "magalogs" pairing content and offers in an appealing environment using both print and digital formats.
2. Broadcasters (network and cable) will create more integrated online custom and advertising programs for the so called "second screen." According to Reuters, Nielsen's research shows that "57 percent of TV viewers in the U.S. who have Internet access use both mediums at the same time at least once a month. That translates to more than 128 million U.S. consumers."
This opens the door to endless ties in for deeper content, social media connections and games/contests to extend a marketing campaign.
3. Consumers will slowly begin to accept that they will have to pay for some premium content online. The decline of print advertising means that online content can no longer be subsidized. It will only be successful with unique, relevant content such as hyper local news or brands such as the New York Times or Variety. Garden variety news and opinion found in places such as Newsweek and BusinessWeek stand little chance of collecting a fee for content because there are so many other sources for that information.
4. Twitter is already leveling off as many people quit or abandon it after a short time. I see that trend continuing, though the idea if micro blogging is here to stay. It's too effective a communications tools not to have a purpose. It makes more sense integrated into something else rather than a standalone since it is still a mystery how Twitter will make a profit. The whole "social media" frenzy will slow down considerably as it becomes just another marketing tactic and media channel for marketers. The cottage industry of social media experts, consultants and dedicated agencies will wane. It's like when "e" was finally dropped from e-commerce and it just became another commerce channel.  We can now drop the "Social" and recognize it's just another media channel.
NAME: Colin Crawford
TITLE: founder and CEO, Media7
PREDICTION(S): In 2010, successful publishers will:
Adapt to the world of "mobility"—the consumption and creation of content on smart mobile devices – smartphones, smartbooks, smartpads and smart e-readers.
Focus on the user experience each medium offers—online is not a print replica and mobile is not an online replica.
Show users that their brand delivers real value across media—they will appreciate mobile has the potential to reset the brand/audience relationship that has been put under pressure by the internet.
Develop a series of revenue streams rather than just expecting the CPM advertising model to work in the digital world.
Engage audiences—as defensible competitive barrier to entry—nurturing and developing audiences will be key to success.
Think of themselves as database/ data services and integrated marketing solutions companies and not just content creation companies.
Link together their three critical databases—content, audience and marketers.
NAME: Bob Sacks
TITLE: president/publisher, Precision Media Group
2009 PREDICTION(S): 2010 is the year of the great publishing realignment where our industry retrenches, rebuilds and looks forward to a bright and prosperous future.
2010 is the year that our senior management intellectually turns the corner and follows the money instead of waiting for its errant return.
This is the year that some print magazines realize that they can make plenty of money being just what they are—focused, idea driven, information cult clubs.  
This is also the year that some other print magazines realize that they can't/don't/won't deliver the focused information narrow enough to pay for the product and move onwards.
2010 is the year that flat economics seems pretty damn good. This will be the year when the surviving franchises reach out past the traditional and seek the screenagers at their home base.
From a historical perspective, next year will be noted as the launching date of magazines designed for the new substrates, which translates into anything that connects to the Web. We will realize that size doesn't matter, while performance and functionality does.
And finally, this is the year that Samir Husni calls BoSacks to say that he finally understands that publishing is not confined to just paper and that electronic communication is not such a bad thing. He does this from his Blackberry.