Forbes Retools Its Luxury Spinoff ForbesLife

The 22-year old lifestyle offshoot relaunches with a newsstand presence.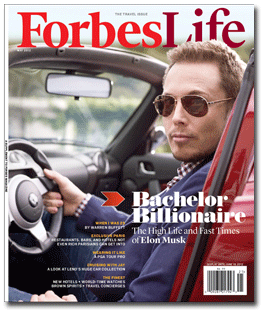 Starting with its March issue, Forbes has relaunched its 22-year old luxury lifestyle offshoot ForbesLife and, for the first time, is selling the title as a standalone at newsstands.
As before, the title's frequency will remain five times per year; 30,640 copies will be distributed to newsstands in New York, Los Angeles and Las Vegas, with a cover price of $6.99. It will continue to be polybagged with Forbes and sent to 800,000 subscribers as well.
"We redesigned Forbes 18 months ago, and we finally feel we have the bandwidth now to focus on ForbesLife," says Randall Lane, editor of Forbes. "What we've done is try to bring it in line with Forbes, with a focus on people, not just stuff."
The relaunched title aims to emphasize "insider access" to the "business elite." The latest issue features a first-person essay by Warren Buffett, along with a cover story taking readers inside the home of bachelor billionaire Elon Musk as well as a private tour of Jay Leno's $20 million garage.
"The full staffing of Forbes is behind it," says Lane. "That's why I'm coordinating, making sure it's using the full muscle and access of Forbes on behalf of this really cool new relaunch."
In addition to the regular Forbes staff, Joseph DeAcetis has been hired as fashion editor. Robert Priest of the firm Priest + Grace led the redesign, with a focus on photo-driven editorial content. Richard Nalley continues as ForbesLife editor.
Lane, who started with Forbes seven months ago, says, "This is something I was very excited about doing when I came here, integrating Forbes and ForbesLife so they work together."
The luxury magazine category has seen a good amount of activity this year: Niche Media founder Jason Binn recently announced the upcoming launch of Du Jour, while Bloomberg Businessweek announced the start of a lifestyle spinoff called Bloomberg Pursuits.
The decision to launch Pursuits may likely be related to the revenue-generating success of Bloomberg Businessweek, which saw a 29.4 percent increase in ad dollars and a 19 percent increase in ad pages between 2010 and 2011, according to most recent PIB numbers.
Meet the Author
---