Forbes Media is nearly 100 years old, but that doesn't mean the company plans to rest on its laurels. Rather, the brand has been consistently getting out in front of new challenges, and it seems to be working.
An internal memo from CEO and executive chairman Mike Perlis, regarding the company's H1 2016 business highlights, emphasized the success of this strategy. Mobile traffic to Forbes.com increased 30 percent and mobile ad revenues jumped 60 percent. Forbes' native advertising platform BrandVoice — which notoriously put an ad on the cover of Forbes last year — has seen digital ad revenues increase more than 50 percent.
Interestingly, while other media companies see their print audience dropping, Forbes has enjoyed an unprecedented surge. Print readership is at 6.8 million in the U.S., an all-time high for the magazine.
In the wake of this success, the brand recently appointed COO Mike Federle to the additional role of president, succeeding Perlis. Folio: sat down with Federle to discuss his new appointment, and get an inside look at how he plans to tackle the job.
Folio: When did you first learn you were being considered for the role of president?
Mike Federle: I've been here about four-and-a-half years, working with Mike Perlis, implementing our news strategy, the new newsroom and the contributor model of the media company. That led to positioning the company, putting it up for sale, and taking it through a successful sale.
That's now almost two years behind us. So there was a natural time for us to redirect our focus. Mike Perlis is going to redirect his focus towards the board issues and Asia, working with our Hong Kong investors and plans we have there. In order for him to really dedicate his time to that, we agreed I should take on the president's role and run the media company.
So that's kind of a long-winded way to say that it's something we talked about for a while and were waiting for the right time to do. It wasn't a complete surprise to me, but it was certainly a welcome reward for the work we've been doing the last four-and-a-half years.
Folio: What are some of your key priorities early on?
Federle: The media business, by definition, is just getting more and more complex. All of the changes going on in digital media and content distribution — it's a constant reinvention that has to go on in the industry. So one of my initial points of focus is going to be how we can simplify as much as possible — how we bring new products to market and how we all work most efficiently together.
The complexity in the industry is around some huge trends and shifts going on. Obviously [the industry is moving] towards mobile, so a lot of our attention is there; it's also on content distribution across platforms and how that's changing our business.
Folio: What challenges keep you up at night?
Federle: The challenge is that nothing is ever done, right? The moment we feel like "oh boy, we're in a great spot," something changes, whether it's ad blocking that becomes an issue or viewability…Distribution models of content are creating new issues and concerns for us that we have to address.
What I consider one of the really strong points of Forbes is that we are very focused on finding solutions and being innovative on the issues that are confronting us and the industry. To me, in order to address them, you've got to be out front leading and not following the pack. So it's going to be very important to me, as I lead the media company here, to stay our front with solutions, and do experiments, knowing that we're not always going to get it right.
Folio: You just launched a website in French. Why has international expansion become such an attractive focus for the company?
Federle: That's been a lot of my focus since I've been here the last four years…It's a great demonstration of the value of the brand and the demand for the brand around the world. With the case of France, it's the first time we launched a website only, with a magazine planned to come after the development of the digital audience. That too is a bit reflective of what I just said about our willingness to be innovative and try different models. But in the end, what that does for us is create a great partner. Every time we launch a new licensed product — and we now have 36 around the world, in 36 different countries — we kind of plant our flag in a new market and we create opportunities for other businesses to grow around that.
Folio: In terms of digital advertising, Forbes.com has been at the forefront in the fight against obstacles like ad blocking. What are some lessons you've learned?
Federle: We've always addressed issues as they come up early on. Oftentimes before they become industry issues, we'll recognize this is what clients are talking about or what is occurring in the digital space. With ad blocking, for instance, we've been very much out front. About 12 percent of our audience currently has ad blockers, and yet through our efforts, 44 percent of that [group] has turned off their ad block.
There is constant change going on in the marketplace, and digital media is still evolving at such a rapid pace; we just need to be very vigilant about those things that are potentially beneficial or hurtful to our current business model.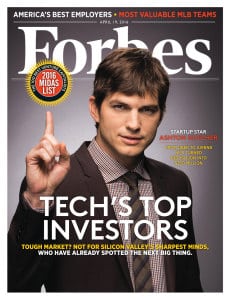 Folio: With more publishers embracing native advertising, how do you ensure something like Forbes BrandVoice stands out inthe crowd?
Federle: Forbes BrandVoice was really the innovative product when it launched five years ago. We've had a head start and the product has evolved tremendously over those five years…We've been working with a lot of our BrandVoice clients directly in shaping the product. There again, we want to remain the leader, an out-front innovator in that area…We saw this trend coming years ago and it's only really just beginning. So we feel that we're well positioned as a leader with BrandVoice and native advertising to continue to innovatively lead in this area.
Folio: What about the print product?
Federle: The print product remains the front door to our brand. Especially when you start looking at all the licensed products around the world — with the exception of France — it always starts with the print product. It's what people identify Forbes with. To be on the cover of Forbes still is an iconic measure of success.
More people are reading the magazine than at any time in nearly our 100-year history. The incredible thing is that over the last seven years, the magazine has seen a 50 percent increase with readers age 18 to 34…The challenge remains that marketers are focused a lot more on digital options. So creating innovative print opportunities — which for us is really through our brand voice — and native approaches on print will continue to be a big focus for us.
Folio: Other than the shift to digital, what's the biggest change you've noticed in the magazine business over the last 20 years?
Federle: I've been in the business for 30 years, so for the first 20 years of my career, it was really the old advertising model, and magazines went out and beat each other up for ad dollars. What has really changed is the power of the brand and what you can do with these brands if you truly do have a good, solid brand…I think for years people always talked about the brand, but one of the biggest changes is that brands have really been able to transcend the media world and produce other interesting revenue opportunities.