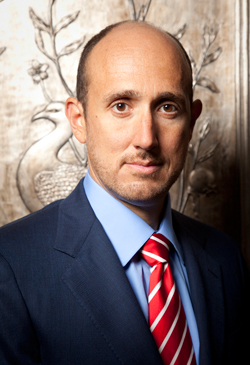 Forbes Media today announced that Randall Lane will take over Forbes magazine as editor, "responsible for the editorial content development and meticulous editing that continues to differentiate Forbes in print."
Lane [pictured], who worked at Forbes from 1991 to 1997 in the roles of staff writer, reporter and Washington Bureau Chief, most recently served as editor-at-large at Newsweek and The Daily Beast. He starts after Labor Day, reporting to chief product officer Lewis D'Vorkin.
"Randall enthusiastically 'gets' the unique, positive role that Forbes magazine will play in this turbulent era for media," said Forbes editor-in-chief and chairman Steve Forbes in a statement. "While many moan about the decline of print, Randall understands the great opportunities Forbes magazine offers by working hand in glove with Forbes.com."
It's been a lively few years for Lane, who was co-founder and president of Doubledown Media, an aggressive startup publisher targeting the Wall Street elite with titles such as Dealmaker, Trader Monthly and The Cigar Report, that folded in 2009 after creditor HSBC ceased to provide working capital due to the trifecta of "media depression, Wall Street implosion and the credit slowdown."
Last summer, Lane (then working with Newsweek and The Daily Beast) was named in a $100 million lawsuit by AVT Inc., a company that Lane alleged in his book called "The Zeroes" paid former baseball star Lenny Dykstra to shill its stock on "Mad Money" host Jim Cramer's website TheStreet.com. That suit was dismissed with prejudice, which means AVT can never file it again and Lane didn't have to file a response.