Forbes Licenses Brand Name to Airport Newsstands

Four retail shops opening in Detroit and Washington airports.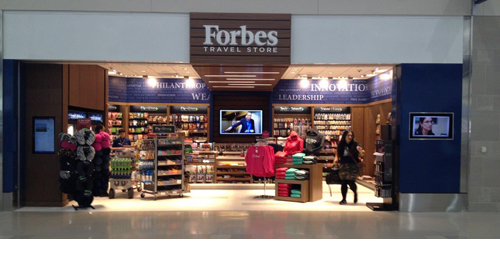 Forbes Media has continued its recent licensing streak with the opening of branded newsstands in airports. Airport retailer Paradies has partnered with the company to open the first newsstand in the Detroit Metropolitan Wayne County Airport.
The licensing partnership includes four terminal-based retail shops, with more scheduled to open in Washington Reagan and Washington Dulles this month.
The licensing strategy has become a focus for Forbes lately. The Paradies deal comes shortly after Forbes announced it began licensing its contributor network technology to b-to-b media company ALM (which just went on the block), a Forbes School of Business at Ashford University and an agreement with payment solutions provider Lotaris to launch the Forbes Digital Commerce mobile payment platform.
"Today, travelers are looking for news and information that will improve their overall trip experience, and the most trusted brands stand out," says Nina LaFrance, Forbes SVP, consumer marketing and business development, in a statement.
According to the wholesaler-owned magazine newsstand sales data firm MagNet, terminal sales accounted for about $241 million in 2013, a 10 percent drop from 2012, but still about 8 percent of total market.
The newsstand market in general is in significant decline, but Forbes and Paradies are banking on the brand name along with the high volume of international travelers through each of those airports to drive sales.
The shops will also sell much of the usual fare found in terminal newsstands, including other magazines, local, national and international newspapers, luggage and convenience items.
Beyond that, the stores will feature monitors airing Forbes video content and "interactive technology stations" enabling customers to browse Forbes.com. The kiosks will also promote the brand's special issues—Billionaires, Forbes 400, Best Colleges, etc.—throughout the year.
Meet the Author
---