Forbes Leverages Industry Boom in Recognition Events

A 30 Under 30 list transforms into a major live event franchise.
As publishers continue to nudge live events into the center of their revenue-generating activities, recognition or award events have become go-to formats. These events have many of the same community-building qualities of other show formats, with the added perks of elevating a brand's authority in the market.
The events are a ground-zero for good will, gathering the top minds in a market—along with the sponsors that want to be next to them—and have a triple-threat revenue opportunity: nomination entry fees, ticket and table sales, and sponsorships, although there are different ways to approach that money-making mix.
The best recognition events, however, tightly manage ticket sales with a credible selection process and judging. Once a recognition event jumps the shark into pay-to-play territory, it loses credibility.
Many events spring out of best-of list editorial franchises—30 Under 30, Fastest-Growing and so on.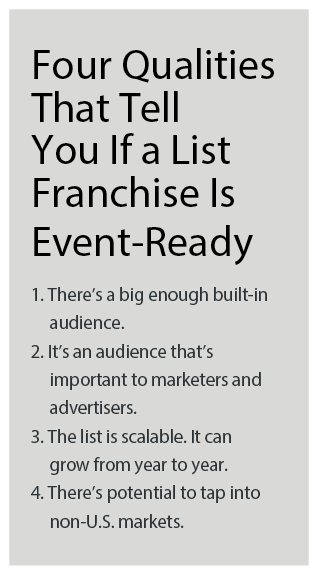 Forbes has created an interesting model out of its own "Under 30" business leaders list, now in its fourth year and second as a summit. Rather than simply picking 30 young entrepreneurs and successful business owners, the brand has split the list into 30 people under 30 years old in each of a host of categories—media, marketing & advertising, science, consumer technology and so on.
When it started, the list had 15 categories and has since grown to 20, where it'll stay, says Fred Poust, senior vice president of conferences and business development. Even so, breaking out those categories transformed the list into 600 face-to-face friendly movers and shakers. A built-in attendee base.
"It started as a list and we noticed it was getting good traction," says Poust. "It had readership, social shares and we've seen success with events with the millennial generation. We realized we had an interesting opportunity at that intersection. We had a group of millennial disrupters who were socially savvy and liked to network. It gave us permission to create an event that went beyond a traditional conference to live music and a food festival, as well as the traditional content."
In this model, Forbes is putting a premium on sponsor sales. Last year the Under 30 Summit drew 1,500 attendees. With an expanded list this year, they expect closer to 2,000. List-makers can bring several guests, who have to buy tickets, but attendee revenue is not high-priority (list-makers attend for free). The community, high-value attendance and networking are the keys.
"There is some gate revenue, but we want each new group to have every opportunity to get together," says Poust. "We didn't want to put a hurdle in the way of them coming. Long term, we want the relationship to continue and expand. Millennials are critical to our media proposition."
The Forbes team puts a premium on nurturing that list. Each year is not a one-and-done event. The previous year's list is critical to expanding the following year. List alumni are invited back, creating an event that's as much about networking as it is about honoring successful people under 30.
Compiling the list is a combination of efforts. People can nominate themselves or colleagues—nominations pour in by the thousands, says Poust. Forbes editors have their own picks and from there, the editors and the Forbes contributor network comb through all of the nominations. High-profile judging panels like Steve Ballmer, Danny Meyer and Steve Case are recruited to help with the final stages of the judging process in each category.
Importantly, honorees are selected based on their risk-taking and change-making in their pursuit of entrepreneurial capitalism—core mission attributes of the Forbes brand itself.
With a festival-like atmosphere, Forbes is able to build in a variety of integrated sponsorship opportunities. Food and beverage categories are a natural fit. Themed drives around host city Philadelphia offer an automotive sponsorship, and lounges and a heavy video presence lend themselves to technology brand sponsorships.
Longer-term, Poust says the list is turning into a major franchise and will have important, broader brand-building implications. "In some ways this could become the franchise for the next 20 years for Forbes," he says. "It's not only a huge franchise, it give us permission to speak to and bring in a very different audience than what we'd historically associate with Forbes. What could be better to stay relevant as a media brand than to have the next generation of business leaders view Forbes as an important brand to consume?"
Meet the Author
---