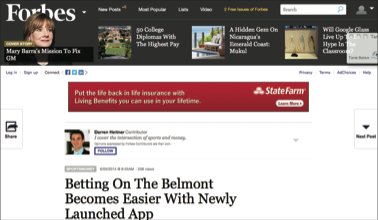 An interesting twist to the startup scene has been the creation of proprietary infrastructure technology that's later productized into a licensing opportunity. One notable launch in that regard was Falcon, a platform built by Forbes that supports its massive network of close to 1,500 contributors. The platform is also used by Forbes writers, but at the heart of the concept is making the process of creating, curating and editing content easier at the front end. Users can find and upload photos from a secure library, embed video and publish selected content to a variety of Forbes channels and social media.
More Power on the Front Lines
The platform puts significant editorial and creative power in the hands of both staff writers and contributors. It also supports a highly efficient process that includes the right editorial checks and balances and permissions while keeping the workflow autonomous and independent. 
"Once we vet contributors, we give them the tools to self-publish, without there being a gatekeeper in the way," Lewis D'Vorkin, Forbes Media's chief product officer, told FOLIO:. "Our system, both human and technological, is de- signed to monitor content very carefully and quickly-after publishing it."
The platform can scale to accommodate thousands of contributors. Access rights and permissions are set by the editors.
But it's not just about content creation. Falcon includes a robust set of analytics that tracks usage data—pageviews, comments and unique visitors, as well as social sharing.
Interestingly, Forbes Media has used Falcon to inspire a new focus on technology creation as both a competitive advantage and new revenue stream. "Our strategy with Mike Perlis, when he came on as CEO, was to transform the company and look at everything through a technology filter: How do we make Forbes a technology-media company as opposed to a media company that might be using technology?" Forbes COO Mike Federle told FOLIO:.
Why Not Shop it Around?
Accordingly, Forbes Media began shopping Falcon as a solution for other publishers to license. Hearst, American Media, Inc., TheStreet and Abrams Media all kicked the tires and ALM ended up licensing the platform for its flagship site Law.com. ALM already had a contributor network in place, but was looking to scale well beyond the 6,700 contributions from 1,600 industry experts it collected in 2012.
Forbes Media pitches Falcon as a SaaS model, hosting the platform itself or assisting with a third-party cloud installation. The company says it can also do on-site installs.
Falcon is an example of a range of, mostly, CMS platforms being developed internally by publishers. At the heart of the trend is a strategic decision to expand productivity while allowing more flexibility with the creation process. Mixed in with that, however, is the need to accommodate initiatives around video, social engagement and, importantly, analytics.