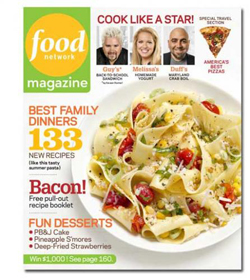 Once identified as the most notable magazine launch of the year in 2009, Hearst's Food Network magazine is continuing to ride a wave of reader enthusiasm with the announcement of its sixth rate base increase since the title went live.
Test issues were first contemplated back in the fall of 2008 with an initial circulation pool of 300,000 issues-now the rate base will reach 1.4 million, up from 1.3 million, effective with the January/February 2012 issue.
According to its first-half 2011 ABC report, total circulation fell around 1, 473,000 with more than 338,000 single-copies sold, which represents a five percent increase over the previous reporting period, a news release from Hearst says.
In April 2010 the group increased its rate base from 400,000 to 900,000 and climbed to 1.25 million in August of last year. Last summer the magazine reported an ad page increase of 263.7 percent.
The title was also the biggest ad page gainer for 2010, according to the Publisher's Information Bureau, which said at the time the magazine was up 78 percent to 796.5 pages.