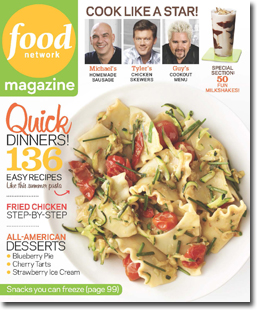 Hearst's Food Network Magazine plans to hike its rate base twice in the coming year. The January/February 2013 issue will mark an increase from 1.45 to 1.5 million, and the rate base will increase again to 1.55 million with the title's July/August 2013 issue. These hikes represent the eighth and ninth rate base increases for the publication since its 2009 debut.
"This story has been the same since it launched: It's a consumer story," says Food Network Magazine VP/publisher/chief revenue officer Vicki Wellington. "With Food Network on air 17 to 18 years, reaching a million households; online and the research which [Food Network owner] Scripps does constantly, asking viewers what they want more of. Consumers wanted this product in magazine form."
The magazine just underwent its most recent rate base increase with its July/August 2012 issue, now at 1.45 million.
Newsstand sales aren't the only fruitful revenue stream for Food Network Magazine. Wellington discusses the title's advertising success, "According to [FOLIO: sister publication] min, through the June issue we're up 15 percent, and the epicurean set is down 8 percent. We're the sixth largest selling newsstand magazine, and up in every selling category. People who don't do print are investing money; we have advertisers running 360s with us."
Despite a still rocky media terrain, Wellington doesn't anticipate a plateau for Food Network Magazine any time soon, "We've been delivering 1.6 million for some time, so we've been over: delivering a solid 200,000 per issue for the whole second half of last year, and the whole first half of this year."