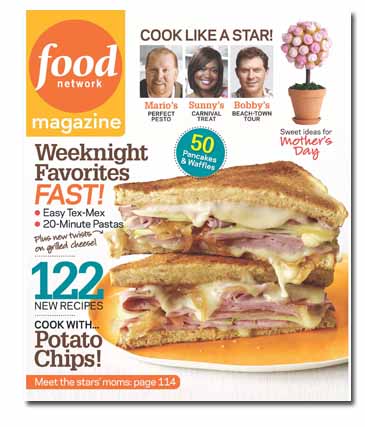 Hearst's Food Network Magazine exploded onto the market late in 2008, tapping the growing audience behind TV's Food Network and its stable of colorful hosts and celebrity chefs. Since then, the magazine has scorched up newsstands, growing from a 300,000 initial circulation title to more than 1 million today.
This year, Food Network Magazine finds itself nominated for a general excellence Ellie (500,000 to 1 million circ. category) by the American Society of Magazine Editors. It's the start-up's first nomination for the first year it has been eligible. The awards are set to be handed out this week, and the magazine is stacked up against perennial winners Esquire, The Economist, GQ and Wired.
Here, FOLIO: speaks with editor-in-chief Maile Carpenter about the nomination, steering the magazine editorially and whether she could give Giada De Laurentiis a run for her money (in the kitchen).
FOLIO:: Food Network Magazine is nominated this year for a general excellence Ellie in the 500,000 to 1 million circ category. You're up against some stiff competition. Does Food Network Magazine have a chance?

Carpenter: As they say, anything boys can do…  Actually, it's an honor just to mentioned in the same sentence with these four magazines. I know it's a cliché, but it's really true in this case: It's great just to be nominated.
FOLIO:: You submitted the October, November and December issues. Why did you select those specifically?
Carpenter: The end of the year is prime eating season! So it was fitting that these issues were our favorites. They were just packed with good food and fun holiday stories.

FOLIO:: Before landing the top editor gig at Food Network Magazine you served as executive editor at Every Day with Rachael Ray (another Food Network personality), and have written about food for magazines and newspapers since 1995 . How is this job different from any other you've had?

Carpenter: This magazine is a joint partnership (between Hearst and Scripps Networks), so in a way I work for two companies: Hearst and Food Network. It's not just about putting out a great new food magazine—it's also about capturing the spirit of an existing (and powerful) brand.
FOLIO:: As editor, I assume you've been able to work with many of the on-air personalities at the Food Network. Who has been most fun to work with?
Carpenter: My most memorable day on the job was a summer shoot at Ina Garten's house in East Hampton, New York. On-location shoots are always busy, exhausting days, but we showed up at Ina's and she had fresh orange juice on the counter and jazz playing, and all the doors were open so there was a slight breeze, and I could smell the fresh lavender from her garden. It felt like I had walked right into her show, and there she was, making homemade caramels and telling great stories.
She's the real deal. I try not to seem star struck on the job, but I was completely star struck that day, and I continue to be around her.

FOLIO:: I would be, too. Ina Garten is great at what she does. How about you? Are you a good cook?
Carpenter: Hmmm, well my husband would say so, but that could be because he wants me to cook for us more often! I have a degree from The French Culinary Institute so I'm comfortable in the kitchen but I'm not good enough to cook without recipes. I use our magazine's recipes every week.
FOLIO:: Every week? What, if any, was the most challenging recipe from the magazine that you've attempted preparing?
Carpenter: None of our recipes are over-the-top challenging, but last Thanksgiving I made the pumpkin cheesecake from our first issue. It was from our "Copy That" column, where the chefs in Food Network Kitchens try to recreate a famous, top-secret recipe (in this case, cheesecake from The Cheesecake Factory).
I made a crucial error though and forgot the part about chilling the cheesecake at least eight hours. I made the cake on Thanksgiving morning and had to serve it a few hours later—as a warm mousse.