Emap Shows Revenue Decline

Consumer magazine division revenues down nine percent.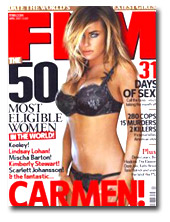 After a general meeting late last week, British publishing company Emap released its third quarter financial figures, showing a 9 percent decline in its consumer magazine business revenue compared to the same period in 2006. Advertising revenue was down 12 percent, the company said, and circulation dropped off by 12 percent.
Revenue for the company's radio business, excluding the sale of its Republic of Ireland radio stations this month, was up 6 percent in the quarter compared to the same period in 2006.
During the meeting, shareholders officially authorized the sale of the company's consumer media and radio divisions to Heinrich Bauer Verlag KG for $2.3 billion. Emap had been on the block since last July.
Revenue for Emap's business-to-business division, which the company agreed in December to sell to private-equity firm Apax Partners Worldwide LLP and Guardian Media Group Plc for $1.9 billion, was up 14 percent. The division's magazine business was up five percent while its information products (up 19 percent) and events businesses (up 12 percent) also saw increases.
Meet the Author
---