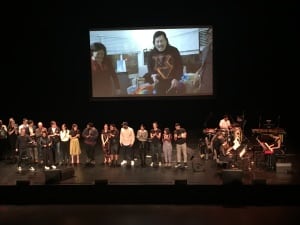 Last month we went behind the scenes of Pop-Up Magazine, to learn more about its origins and business model. In only a few short years, the live experiential magazine has gained traction for its unique brand of storytelling. The touring series has already outgrown its past New York venues—the Town Hall and David Geffen Hall in Manhattan. But it may have already outgrown its newest home in the city after a sold-out show this past Saturday at the Brooklyn Academy of Music (BAM) Howard Gilman Opera House.
The buzz around Pop-up Magazine, along with its quick growth, makes sense to this reporter, after a raucously entertaining yet thought-provoking evening.
The Howard Gilman Opera House is just a block away from the Barclays Center, and it's a cavernous, gorgeous hunk of history in Brooklyn's Fort Greene neighborhood. It's almost nearly double the size of the Town Hall, which is a regular host to many notable music and stage acts.
Billed as a live performance of what you'd find in the pages of a magazine, the show even includes elements like an editor's note from editor-in-chief, Douglas McGray, as well as live native advertisements. And the entire night was given great coherence from the show's five-piece band, Magik*Magik Orchestra, headed by bandleader/keyboardist Minna Choi.
The band backs many of the storytelling sets, as well as all of the integrated advertisements. Many of the acts within the show are accompanied by photos or animated short films. For instances, a piece titled "Let's Talk About Sax" was performed by writer James Bennett II and was complemented with a saxophone score by Travis Sullivan.
Bennett gave a hilarious, albeit abbreviated, timeline of the instrument's history. From Kenny G tunes to George Michael's "Careless Whisper," Sullivan was right there with him playing the famous saxophone parts.
There were several stories told over the course of the evening that were moving, even borderline gut-wrenching for the audience, but they all had moments of levity or instances that revealed the goodness in humanity.
"It's amazing to be at an event that finds the crossroads between storytelling, technology and music."
Take for example Erin Lee Carr, daughter of the late New York Times' media columnist David Carr, who spoke of her father and shared some of his retweets from critics after he said that people from Missouri and Kansas have "low, sloping foreheads" on "Real Time with Bill Maher." Or photojournalist Kirsten Luce, who captured images of drug cartel activity on Texas's border along the Rio Grande, and contrasted that devastation by sharing photos of families playing in the river and farmers bathing their horses. Cathartic moments like those helped the show strike a consistent balance throughout the evening.
The most similar experience that Pop-Up Magazine can be compared to would be the live taping of a major podcast. From the attention given to stories to the excitement of hearing live music to the belly laughter at a stand up show—it's all there. And as I learned after the show when talking to theatergoers (at a jam-packed cocktail mixer in the lobby), they felt like as if they were there with the performers the whole night through.
"It's amazing to be at an event that finds the crossroads between storytelling, technology and music," said Scott N., a podcast producer in New York.
Besides the large HD screen behind the performers, the technology he refers to is also the interactive elements of the show. Rose Eveleth's act, "Welcome to Vanguard Estates," was a choose-your-own-adventure that included the entire audience. Together, we all navigated the future of elderly care as many experts are predicting it.
In everyone's program there was a tiny envelope that read "Don't open me. Yet." Inside were two tiny glow sticks—one green, one orange. From housing run by robots to seeing a livestream of your aging parents, the entire audience chose how to proceed in this predicted future by raising either glowstick.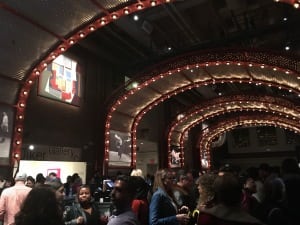 As with most of the acts, there was loud laughter throughout—this was an incredibly vocal audience. And at the end of the evening, I was hard-pressed to find someone who didn't enjoy the show or wouldn't recommend it to a friend. But more impressive was the number of people who said they would come again, or that this was not their first time at a Pop-Up Magazine event—including Scott N., who had been at the previous Town Hall show last year.
One couple, Jeff M. and Martin C., local college students, said that they couldn't wait until the next Pop-Up came to the area.
"I absolutely loved it," said Martin. "This is definitely something that I'd  be excited to go see again."
"We've never been to one of these before, but a friend of ours that went to the Town Hall show told us about it and said they loved it," Jeff added.
At a time when much of the magazine industry is looking to events as another revenue stream, Pop-Up Magazine seems to have found a formula that works. Half that formula is something that magazines have been doing for nearly 200 years—telling great stories. The other half is creating a great experience that people want to be a part of.
If nothing else, the liveliness of the crowd and the excitement in the air afterwards suggests that Pop-Up Magazine is doing something right.