Folio Top Women: Staci L. Hallmon-Bazzani

National Sponsorship Director, ESSENCE Magazine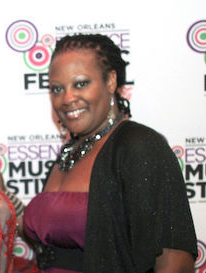 For the past 10 years, Staci Hallmon-Bazzani has made an indelible impact on growing the ESSENCE Festival into the largest live event in the United States. Referred to as the "Super Bowl of Marketing to Black Women" by Ad Age, she oversees national sponsorships for the 20 year old ESSENCE Festival in addition to live event-newcomer, People En Espanol Festival.
Hallmon-Bazzani started at Time Inc. from humble beginnings, filling in for an associate as an Executive Assistant to former Time Inc. CEO Ann Moore. In time, Hallmon-Bazzani began her ascent within the company, leveraging her PR, event management, production and promotions experience to organize executive events, which included yearly trips to the ESSENCE Festival. In 2008, she joined the ESSENCE Festival Team and immediately began to make an impact within the sponsorship group. Her infectious enthusiasm, strong strategic ideas and undeniable passion for the ESSENCE brand and its marquee event forever reshaped the protocols of the sponsorship activation and negotiations processes. Additionally, under her leadership, the sponsorship & advertising revenue tied to the festival have continued to grow exponentially each year across all platforms (print, digital, social, etc).
A common saying around the ESSENCE offices are "teamwork makes the dream work" and Hallmon-Bazzani fully embodies a leader who dreams big and encourages her team to dream even bigger. Hallmon-Bazzani's leadership of her team and of the ESSENCE brand is a testament to her incredible commitment to the brand, its mission and its readers.
Meet the Author
---