Folio Top Women: Karen Kovacs

Publisher, PEOPLE Magazine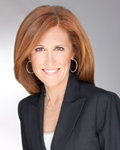 Publisher of PEOPLE since 2010, Karen Kovacs is revolutionizing advertising sales and multi-platform development for one of the world's largest media content brands, reaching 53 million consumers each week.
A 22-year veteran of Time Inc., Kovacs was the driving force behind the launch of PEOPLE.com and a key architect of its explosive expansion that delivers more than 40 million monthly unique impressions-including more than 12 million from mobile alone-and has over 15 million social followers, more than any other magazine brand.
Kovacs works closely with PEOPLE Editor, Jess Cagle, to develop new products and strategic initiatives that align advertisers with key franchises. In 2013, this included a Times Square billboard takeover unveiling the year's Sexiest Man Alive, along with a celebrity appearance by Tyson Beckford and on-ground activation sponsored by hello seriously friendly oral care. Now in its second year, Kovacs built PEOPLE's "Ones to Watch" franchise in partnership with editorial to target Millennials with print, digital and social extensions, plus a live event that spotlights the hottest up-and-coming celebrities.
During 2014, Kovacs led her team to achieve PEOPLE's biggest Oscar issue in 10 years-boasting 69 new advertisers and 104 ad pages, up 50 percent year-over-year-all on the magazine's recently increased paper stock. Plus, with more than 100 ad pages, PEOPLE's 50 Most Beautiful issue was the biggest in seven years, up nearly 19 percent year-over-year. Under Kovacs leadership, PEOPLE was honored as the Highest Rated Media Brand for "Brand Strength" in the Print category by Advertiser Perceptions in 2014, receiving the highest rating among more than 110 national magazines and newspapers. In 2012, PEOPLE Digital received the highest ranking for "Advertiser Satisfaction" in the Digital Content category. In 2011 Kovacs was named Team Leader of the Year in MIN's Sales Executive of the Year awards. She serves on the Board of Directors of Advertising Women of New York.
Meet the Author
---