Folio: Taking Content-Creation Summit Series on the Road

Workshops on next-gen content development coming to LA, NYC and San Francisco.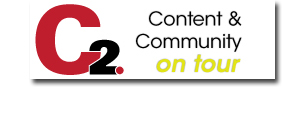 FOLIO: unveiled a one-day, nuts-and-bolts training workshop this week focused on presenting essential new skills for content creation and deployment. The workshop will be conducted three times in 2012—in Los Angeles (October 10), New York (November 14) and San Francisco (December 4).
Called C2, the workshop is built on more than 70 case studies and best practices from around the media industry. FOLIO: general manager Tony Silber and editor Bill Mickey will host the event.
"There's never been a more exciting time to be in media," Silber said. "There are new channels, new formats, new expectations and new opportunities. The basic relationship between content creators and content consumers has evolved."
The workshop's core curriculum is an analysis of case studies that show how media companies are leveraging social, cross-platform tactics, video and much more to build content creation strategies that address today's reader behavior. Learn what's on the minds of the innovators in consumer, b-to-b, association media, city and regional, and hear what's right around the corner.
To register and to learn more, click here.
Meet the Author
---