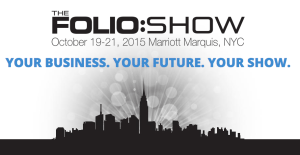 New York—The first day of full programming at the Folio: Show here at the Marriott Marquis began with a breakfast keynote address from Time, Inc. chief content officer Norm Pearlstine. Immediately afterward, the exhibit hall opened in the Westside Ballroom, affording magazine publishing professionals the opportunity to interact with over 40 exhibiting companies while a full slate of simultaneous seminars and panel discussions began.
Broken into three tracks: revenue, content and marketing, the programs featured a who's who of influential figures in the magazine industry, from publishers and C-level executives to editors-in-chief and creative directors to social media editors and marketing managers.
During Making Multiplatform Content Workflows Work for Content Teams, Jessica Pels, site director at Marie Claire, gave attendees a peek inside the inner workings of Marie Claire's digital side. Some of the highlights:
· Marie Claire distributes content across 14 different platforms.
· Half of Marie Claire's digital visits come from mobile devices.
· Only 2 percent of site content comes from existing print material.
· Regarding chat programs in the office: "Nothing has revolutionized the way we work more."
In the same presentation, Anthony Licata, editor-in-chief of Field & Stream, stressed the importance of good multi-channel content management practices, adding that it requires leadership, strategy and, most importantly, a staff that is clear on the mission.
"The goal of increasing the 'value proposition' must drive all content." Licata continued, "What we've traditionally done is not as valuable as it was, and we've got to adapt our content to today's landscape."
In Marketing Activation: From Knowledge to Action, Felicia Hamerman, VP, Marketing at UBM Connect; Prescott Shibles, VP, Audience at Randall-Reilly; and Heidi Spangler, VP, Audience Data Strategies explained the benefits of integrated databases for valuable customer insights and lead generation. All three speakers stressed best practices in both creating and maintaining databases, such as removing "non-engagers" and forming a comprehensive "pre-build" plan to minimize the need for retroactive reorganization.
Shibles particularly emphasized a bottom-line approach, such as examining the "cost-per-clicker," while Spangler illuminated additional revenue streams arising from strong database management apart from lead generation, such as selling or renting access to it.
During Secrets to Pricing and Packaging Branded Content, George Assimakopoulos, head of client services at Penton, described the five desired decision-making consequences of marketing: discovery, awareness, consideration, purchase and advocacy. Failing to engage in branded content-based marketing causes publishers to miss out on the first three steps, said Assimakopoulis.
Sarah McConville, VP of marketing and publisher of Harvard Business Review, described how, in addition to creating a digital component for every print piece, HBR premium subscribers are also given access to a massive content archive, PowerPoint versions of every article, and a visual library of all graphics appearing in the magazine.
During the revenue track, Michael Hannon, VP, Purch and Dana Caputo from The Enthusiast Network (TEN) asked the audience, Is Programmatic Right for You? Hannon said that people need to get past the negative perception of programmatic as an inferior, lower-quality method of advertising.
"Benefits [of programmatic] include private marketplace (PMP) deals, a wealth of data about your audience, and significant controls, such as pricing," he said, adding, "$21.5 billion in programmatic advertising sales are projected for 2016."
"Programmatic increases the CPM of unsold inventory," Caputo continued.
Rounding out the afternoon was a three-man panel, Creating an Iconic Cover, featuring Chris Deacon, art director for Playboy, Robert Newman, creative director at This Old House, and Matt Strelecki, creative director for Meredith AgriMedia.
"My three rules for creating a great cover are: be willing to fail; be clever, but not too clever; and, finally, there really are no rules," said Strelecki, "In the end, we are in a fashion business."
Deacon, who recently joined Playboy from Time Out New York, described where he draws inspiration from, saying, "I have always loved advertising. I love advertising more than I love magazines, and I really love magazines. I like the idea of one image, one instant message."
"A great cover starts a conversation, engages the reader, and builds the brand," said Newman. "Covers are no longer tables of contents."