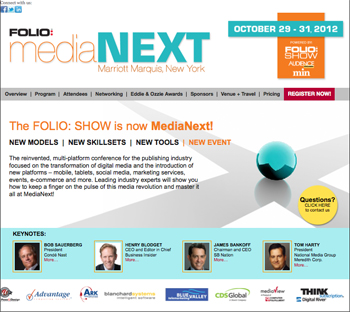 For more than 35 years, magazine media professionals have come together to at the FOLIO: Show, the largest magazine industry event—three times larger than the next-closest event, and the only one that attracts the best and brightest from all sectors of the industry, whether consumer, b-to-b, association, city and regional, enthusiast and more. The FOLIO: Show is also the only event designed to provide industry education to all the disciplines, including editors, salespeople, audience developers, marketers, Web strategists and more.
In an effort to evolve with the changing media landscape and deliver more insights, innovative research and cutting-edge solutions to the magazine industry's biggest challenges, FOLIO: is producing a completely rethought event this year: MediaNext.
The reinvented conference focuses on the transformation of digital media and the introduction of new platforms—mobile, tablets, social media, marketing services, events, e-commerce and more. But it's about more than that: It's about magazines, and where they fit in this emerging mix. It's about running a successful magazine-media business in 2012 and beyond, whether your business is primarily print-dependent or whether your revenue is from a variety of sources. In fact, MediaNext was programmed with the understanding that new and emerging media forms already have much in common with traditional forms, and there is a new definition of the media industry that encompasses both. That's what MediaNext is all about.
Leading industry experts will show you how to keep a finger on the pulse of this media revolution, helping you to master it all at MediaNext.
This event will still enable you to gain the critical intelligence and insight you need to succeed in the years ahead. With over 50 sessions, four industry-leader keynotes, four extended-length workshops, master classes featuring best-selling authors, microsessions, and peer-to-peer unsessions, you will get the education you need to thrive in this dynamic environment.  Not only do you choose the subject matter—but also the learning format that works best for you.
 
With 2,000+ expected attendees, speakers and exhibitors, MediaNext is the must-attend event for learning and seeking partnerships.  Join your peers and experience MediaNext, the top industry conference. MediaNext is the best place to learn exactly that—what's next in media.
Check out the 2012 brochure here. To register, click here.
T.J. Raphael is the associate editor of FOLIO:'s sister publication and supplement, Audience Development magazine. Follow her on Twitter: @TJRaphael1.