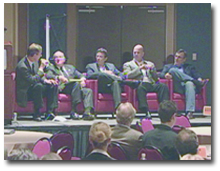 Publisher survival, especially for those supported mainly by print advertising, was the topic of debate today, and some contention, during a FOLIO: Show Virtual panel discussion called "Big Ideas and New Opportunities for 2010 and Beyond." The all virtual event kicked off this morning with close to 2,000 people from all over the country registered to attend—all from the comfort of their home or office.
"The magazine business, particularly if you're dominated by print advertising, is going to continue to be a no-growth to a declining business—probably forever," panelist David Nussbaum, CEO of enthusiast magazine and book publisher F+W Media, said during the discussion. Other panelists included Mann Media CEO Bernie Mann; Eric Biener, Nielsen Business Media's vice president of business development; and Daniel McCarthy, chairman and CEO of Network Communications, Inc.
While some print magazines will survive, publishers "can't bank on them being the driver" of their business, Nussbaum argued. At F+W, magazine publishing depends largely on subscription and newsstand revenues. "Advertising, which we love and we want, will be gravy on top of that," he said.
Mann, who publishes North Carolina's Our State, countered that losses in print don't pertain to the entire industry. "Trust is very important and is hard to find. How many people trust television today? How many people trust their daily newspapers," he said. "If you can build trust in magazines, you have some long, long legs."
Growing Competition
With bloggers and other online publishers are continuing to pop up and capture market share, traditional magazine publishers in the future won't hold sole ownership of the markets they serve, the panelists largely agreed. Publishers now should focus more on core products, the panelists said, and on being "active participants" in the markets they serve.
"I don't think we're ever going back to the day when we were the center of the universe. We have to recognize that," Nussbaum said. "We now are part of the overall community. If we can grasp that role and participate in that role fully then we can begin to get back to levels of profitability."
Events as Experiences
Meanwhile, events this year also have seen significant revenue declines, although not as much as print, said Nielsen's Biener. It's important now to complement brick and mortar events with virtual, including producing components like Webinars, virtual trade shows and streaming video. "Small declines in our tradeshow business represent a huge impact on our financial structure," he said. "We're focusing heavily on making sure that the relationship behind the business gets back to where it needs to be—changing the event from an event to an experience. It needs to be more engaging from a social front and professional front versus being habitual, and event that you just go to every year."
Biener said another way Nielsen has helped offset revenue losses is by selling integrated packages. "By drawing together the best components of what we do to our sponsors and exhibitors, we're seeing a deeper investment from the top tier, while the bottom tier might be drifting away because of financial concerns."
And Beyond
From Questex Media to Reader's Digest to Penton Media and Advanstar Communications, many of the industry's largest, and most over-leveraged players are undergoing dramatic capital structure evaluations and reorganizations. McCarthy said he sees these changes as an opportunity, not so much as a negative.
"All the debt that was loaded into these companies was not to create economic value for the companies but for the investors," he said. "All that equity is going to get reset in a way that, if the capital markets work logically, these companies will have more resources to go and retool. It will allow them to operate with balance sheets that make sense and allow them to go out and generate value."
And, of course, what's a panel discussion today without talk about charging for content online? "Allowing people to parse out the pieces of content they find valuable, and to make nickels on those pieces on an economy of scale is one of the future models we are looking at for our businesses," Biener said. "I think micropayments are going to play successfully in the future of media business, specifically content."