FOLIO:'s 2009 Manufacturing and Production Trends Survey

Industry execs tell FOLIO: which tools are worth trying.
Manufacturing and production  executives may rarely make the news, but their decisions have the potential to impact the future of their print publishing companies. While 2009 spending has taken a significant dip—like most everything else in the industry—with many opting out altogether, industry execs are forced to get back to basics and make savvy decisions when it comes to which technologies are worthy of investment dollars, and which fall short.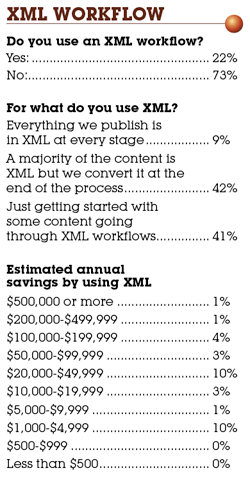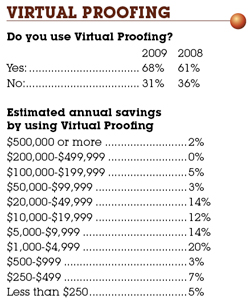 F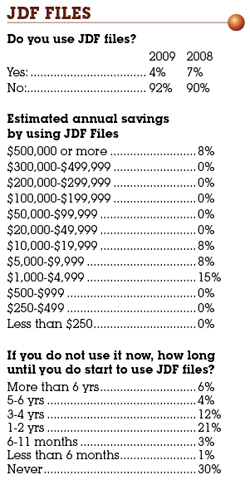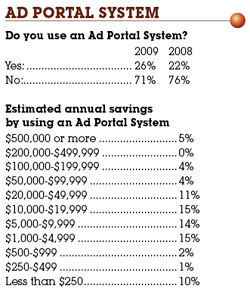 O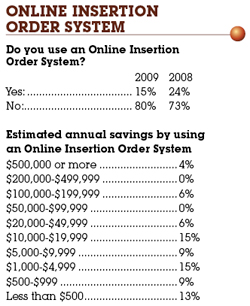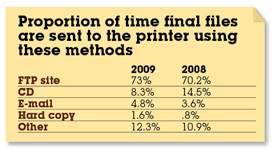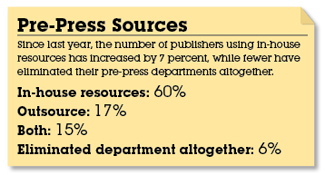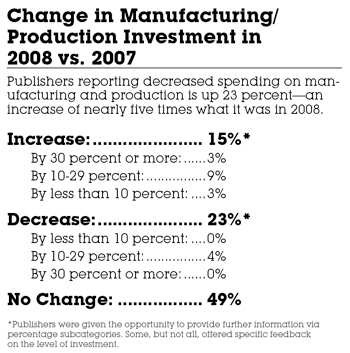 LIO:'s 2009 Manufacturing and Production Trends Survey reports what tools—like ad portals, virtual proofing and XML workflows—continue to come into their own and save publishers valuable dollars, as well as those areas that manufacturing and production execs are avoiding. Facing so many challenges this year, it appears that decision makers are remaining status quo and investing only in upgrades that will save big in the long run.
Most Investment Under $5,000
Thirty-three percent of those surveyed report not investing at all in 2008, and of those who did, 22 percent say that new technology investments were  less than $5,000 (the lowest price bracket). Most technology investments stuck to the basics, with survey verbatims resoundingly fixed on "computer hardware and software"; "printers, and software" and "hardware upgrades." Other areas of minor investment include online development through digital magazines and newsletters, pre-press technology and Web development and hosting.
Nearly half of those surveyed (49 percent) report no change in spending on manufacturing and production in 2008 over the previous year, while 15 percent cite an increasing investment in 2008 from 2007. However, this is down 6 percent from 2007 versus 2006. Within this diminishing category, 3 percent of respondents say that their investment is in the "30 percent or more" and "less than 10 percent" ranges, with 9 percent between a 10-29 percent increase. Twenty-three percent of respondents cite a decrease in investment—up from 5 percent last year—particularly in the 10-29 percent category.
Virtual Proofs Aren't 'Interim Technology'
FOLIO:'s 2009 survey shows publishers streamlining many manufacturing and digital production processes with in-house resources increasing by 7 percent from 53 to 60 percent this year over last. Respondents also reported that both outsourcing and in-house pre-press sources have decreased by 7 percent and 2 percent, respectively, since 2008.
A bright spot in this sector is the number of publishers using virtual proofing, up 7 percent, and for good reason. Industry executives report bigger savings from the process, with 14 percent saving $20,000-$49,999 (up from 6 percent in 2008). Savings in the less than $4,999 category, however, have decreased since 2008.
In a recent FOLIO: story, Time Inc. director of digital technology, Kin Wah Lam, says he continues to be quite happy with virtual proofing since beginning with it in 2004. However, at this year's PRIMEX conference, industry vets projected whether no proofing, or print to the numbers, could be next in the evolution of more efficient proofs. While Lam thinks that this process—running a press without any reference proof to guide the operator—has some potential down the road, he considers that "current print-by-numbers alone isn't good enough to eliminate any form of hard or virtual proof." Lam doesn't consider virtual proofing to be an interim technology; if anything, he considers it a complement to the print by numbers process.
In addition to virtual proofs, ad portals are also experiencing growth, with a slightly higher number of those surveyed using a portal system (26 percent versus 22 percent in 2008); the number of respondents not using an ad portal has also decreased by 5 percent (from 76 percent in 2008 to 71 percent now). While many continue to use Web-based ad portals to manage their ad traffic (a small percentage over last year anticipate implementing one in less than six months), Martha Stewart Living Omnimedia developed an in-house, open source platform in June for more efficient delivery and receipt of advertising materials. "We can push ad material extensions even closer to press time than we have in the past, which allows us to provide more flexibility for our salespeople and our clients," says Dora Cardinale, executive vice president of print production. The argument for portals has also gone green. "This process is also environmentally friendly since it allows for the elimination of thousands of discs that, after a single use, literally become landfill," she adds.
Digital Workflow Formats
The need to automate has become a no-brainer for many publishers, particularly when it comes to PDF workflow technologies. Twenty-two percent of respondents are using an XML workflow, up from 18 percent last year. The number of manufacturing and production execs using XML for every stage of the process has also grown 7 percent (from 2 percent to 9 percent in 2009). Unfortunately, fewer respondents reported big savings with XML in the $5,000-$9,999 range, but 8 percent more than last year reported smaller savings between $1,000-$4,999.
While XML saw a slight increase, the outlook continues to be bleak for JDF (Job Definition Format) files, a production standard that enables publishers and printers to describe the intent of the printed piece, as well as each process step required to achieve that intent. Respondents say they are less likely to use JDFs (4 percent this year versus 7 percent in 2008), and those who will never use JDF has increased over the past two years—from 23 percent in 2007 to 30 percent in 2009.
In 2007, Hachette Filipacchi experimented with using a subset of JDF as an e-commerce message set to allow more automated delivery of materials for pre-press, but ended up abandoning the effort. "Decisions are changing so rapidly that we put a stop to it and haven't picked it up since," Hachette's director of digital technology, John Dougherty, said at the time.
Online insertion orders have also decreased in popularity, with almost 10 percent fewer reporting use from last year, and 7 percent more citing that they do not use this technology.
Production Sees a Renaissance
The 2009 respondent profile reports that the "types of magazines published" have remained flat with the exception of  city and regionals, increasing by 11 percent. While the number of dedicated production pros saw a decline in '08 (down 54 percent from 73 percent in '07), they experienced a resurgence in 2009, increasing to 70 percent. And despite a bleak outlook, a growing number of high revenue publishers—$75 million plus—expect to meet revenue numbers this year.
Meet the Author
---