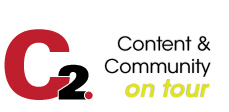 FOLIO:'s C2 roadshow—our content and community tour—is returning to the West Coast on December 4th in San Francisco. The tour, which has already made two successful stops in Los Angeles and New York, aims to take FOLIO:'s unique angle on the magazine media industry to the back yards of publishers looking for tactical assistance in an increasingly fragmented content world. 
FOLIO: editor Bill Mickey and general manager Tony Silber will be hosting a one-day training workshop for editors, publishers and content creators. The summit is designed to help brands amplify their message, tap new technologies and build community. Top trends and exclusive research will be analyzed and this year's biggest success stories will be dissected as case studies for taking your business to the next level in 2013.
The program has been designed to have an interactive element—a combination of traditional presentations plus group exercises and peer-to-peer sharing.
There are new channels, new formats, new expectations and new opportunities. And the basic relationship between content creators and content consumers has evolved.  To stay at the top of your game and keep your brand's content-creation efforts at the center of your market, you'll need to understand the new landscape, as well as what's coming.
We hope you can join us next week in San Francisco. Check out our full brochure here.