FOLIO: Q+A: Josh Jackson, Paste

Editor of first-time Ellies nominee on life outside of the New York bubble.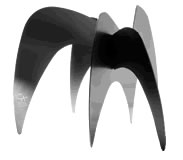 Leading up to the National Magazine Awards—the consumer magazine world's answer to the Oscars—FOLIO: is running an interview series with some the lesser-known nominees to get their thoughts on the Ellies race, the state of the industry and whether or not the awards have become too New York-centric. First up: Paste.

---
Name: Josh Jackson
Position: Editor
Birthdate: December 14, 1971
Hometown: Decatur, Georgia (born in Munich, Germany)
Education: ABJ (with a focus in magazines) from the University of Georgia, '94
First magazine you can remember reading: National Geographic
Guilty pleasure: The Sci-Fi channel ("I loves me some Battlestar Gallactica")
Last three songs listened to: Leonard Cohen's "I'm Your Man"; Patty Griffin's "Stay on the Ride"; The Decemberists' "The Crane Wife 3"
Nominations: 1, General Excellence, circulation 100,000 to 250,000
---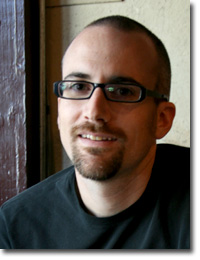 FOLIO:: This is the first year you've been nominated. What do you think of your chances?
Jackson: They'd be better if we weren't up against Radar. Obviously, we're just thrilled to be nominated.
FOLIO:: As an editor outside the New York area, do you find the awards to be too New York-centric? What are the advantages or disadvantages of being an editor outside of New York?
Jackson: I don't think they're too New York-centric. I think most people in New York are actually aware that there's creative work being done in every corner of the country. Being from Decatur, Georgia is a nice differentiator for us. We get to be a bigger fish in a smaller pond of Atlanta, and we could never have a huge office like we do if we were in New York. We're up there often enough to have a bit of a presence. Of course, the disadvantage is that it means more travel.
FOLIO:: What's the biggest challenge of your job as an editor in 2008?
Jackson: It's fantastic to be constantly surrounded by smart, talented people, but the challenge is navigating a dozen different-but-valid opinions on every issue and having to be the one responsible for the final call.
FOLIO:: The so-called church-state line between advertising and editorial is, perhaps, as blurry as it's ever been for magazines. Paste has done some interesting things in this area, in terms of cover wraps and ads next to page numbers. What are your feelings on advertising seeping into editorial? Where is the line? How far are you comfortable going?
Jackson: I'm not comfortable with any advertising that appears to be editorial. With the BMW ads next to page numbers, I don't think there's a danger of anyone thinking that somehow we're now editorially weighing in about a car. I love that magazines have been much more stringent on the ad/edit divide than most other mediums. TV has product placements. Radio has DJ endorsements. Magazines have, for the most part, resisted anything that's really blurring those lines. But that doesn't mean that we won't try to be creative in how to put ads in front of our audience. We first did marginal ads with Mini a couple of years ago, and it was brilliant. As an editor, I'd rather stick an ad in the margin or by the page number and have more room for content.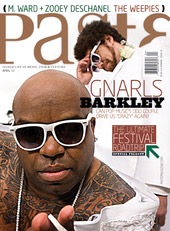 FOLIO:: How would characterize the state of the magazine industry?
Jackson: I'm pretty bullish on magazines. It seems like magazine companies should only be increasing market share as magazines themselves hold steady and magazine Web sites and other outlets gain. Of course, we launched a magazine when both the magazine and record industries were supposed to be dying.
FOLIO:: As a music magazine editor, you're sort of sitting at the vortex of two declining industries, in terms of print magazine advertising and album sales. How do you traverse that? Does it keep you up at night?
I feel like we've weathered the decline in album sales with the huge hit on record label ads in our magazine over the last three years. We're much more reliant on non-endemic advertising now, and some of our competitors who didn't make that jump—including great magazines like Harp and No Depression—have already shut down. But we're still growing in ad sales with a lot of room to go. That said, a downturn in the economy isn't the thing that gets advertisers looking at newer outlets like us. I worry about that more than I worry about magazines or the music business going away. [While] major record labels have taken a hit, there have been countless start-ups, and the innovation is exciting.
FOLIO:: What's the next step for Paste? What's the next step for you personally?
Jackson: There's still a lot of room between us and our next biggest competitor, Spin. We'd like to continue growing our circulation and looking at other ways to share great music, film and culture with people, whether that's radio, TV or online. I'd love to use Paste to launch other magazine titles, and we've got at least one idea close to ready. Personally, I've always said that I hope this is my last job, but that my job would keep evolving as we took on more projects. And in January, I'm going to go off to a cabin in Oregon with some friends and dream up a TV pilot that has nothing to do with music.
Meet the Author
---