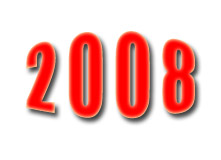 Not surprisingly, our annual roundup of media predictions has generated a ton of traffic for our little Web site here. What is surprising is that it did so without the benefit of the FOLIO: editorial staff weighing in on 2008. So, before we send the piece off to the Smithsonian for archival purposes, I figured we should round 'em up here:
NAME: Matt Kinsman
TITLE: Managing editor, FOLIO:
2008 PREDICTION: I think publishing companies in 2008 and 2009 will face a real talent pool crisis. Those companies that ignore new media training will be behind the curve, while those employees that have developed a new media skillset (and more importantly, a strategic understanding of new media) will say "enough" to product closures, lay-offs and pay cuts, and start jumping ship not only from their companies but the magazine industry in general.
NAME: Bill Mickey
TITLE: Senior editor, FOLIO:
2008 PREDICTION: Six of 'em …
1. Site engagement metrics—time spent and session lengths—will play a larger role with more publishers in the online sales process as advertisers begin to understand that page view and unique visitor metrics are not the only window into an online user's soul.
2. At least one overly leveraged publisher will get squeezed this year, resulting in a rapid crumbling of a rapidly-constructed platform company.
3. Publishers will begin to worry less about "extending the brand" and instead launch new brands to capture new audiences.
4. Value-add will, once and for all, be shed from a publisher's vocabulary, if only out of necessity. Nothing is free, everything has a price.
5. There will be some dramatic and broad e-media strategy shifts as publishers become more comfortable with their audience's online content habits.
6. There will be a noticeable rise in smaller, strategic, bolt-on deals—especially in the e-media sector—from large and small companies alike.
NAME: Dan Trombetto
TITLE: Art director, FOLIO:
2008 PREDICTION: 2008 will be the year that the few remaining Quark users finally see the light and come over to the world of InDesign. We will see one of the most controversial covers of all times hit the newsstands—one that makes each and every one of us question reality as we (think we) know it. Also, FOLIO: magazine will feature NO purple on it's covers (but a pink/black color combo will be used liberally).
NAME: Dylan Stableford
TITLE: Senior editor, digital, FOLIO:
2008 PREDICTION: Here goes, bros:
1. Radiohead launches a magazine, and subsequently struggles to build subscription and advertising revenue with its failed pay-what-you-want model. Thom Yorke quits as editor.
2. Revenues for Graydon Carter's Waverly Inn surpass those of Vanity Fair.
3. A magazine launches a really cool, expensive online product that makes absolutely no money or business sense, but is written about, breathlessly and incessantly. It then folds.
4. Samir Husni shaves off the moustache, quietly. He then grows it back, and counts it as a launch. 
5. I finally snag a dream lunch date with Martha Stewart. I pick up the check.
6. The American Magazine Conference is held in October in San Francisco. Pool-gazing editors complain. The MPA apologizes, and schedules 2009 for Cancun.
7. FOLIO:'s rotating cast of bloggers becomes the Huffington Post of the magazine industry. As editor, I develop misplaced accent.