Flying Solo: Managing an Association Mag By Yourself

Editors alone at the helm offer advice for generating compelling content.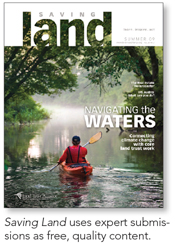 While few editors work completely alone—most have freelancers and supervisors close at hand—at least 30 session attendees at the 2009 Association Media & Publishing (formerly SNAP) conference last month indicated that they are, in fact, alone at the helm when it comes to managing their magazine, carrying the weight of both editorial and art on their shoulders. If that wasn't daunting enough, the expectation, now more than ever, remains that layout art is compelling and copy is well researched—usually on a paltry budget, if at all.
"I rarely get to plan out more than just the content for our quarterly issue," says Chris Soto, editor of Saving Land, published by the Land Trust Alliance. "I try to map out the coming year's features and decide which writers to pair with these. But with columns and departments, it's hard to get ahead." While budget cuts and staffing are industry-wide challenges, there are some underutilized resources that association publishers can tap into.
Utilize Your 'Cadre'
Most associations have "a cadre of experts," says Soto, including teachers, consultants and lawyers who do pro bono work for the organization. Soliciting content from this community is key. "As a general rule, if I receive submissions, I don't pay a fee, but if I seek out a source, I do," Soto says. A pitch she received by the Open Space Institute, she says, was batted around and eventually led to Saving Land's summer feature, "The Real Estate Rollercoaster" written by Open Space's well-regarded president and a staffer.
Find Experts on ProfNet
"ProfNet is an unbelievable tool," says Kelly Saxton, senior editor of development marketing and communications for the Paralyzed Veterans of America, and formerly the senior editor at the American Bankers Association titles Trust & Investments and Bank Compliance. "You can find an expert in any field—be it through a university or government agency—who wants to be quoted, if not write the full article." Saxton notes a particularly strong ProfNet network in the technology area of financial services and streamlining operations, in addition to investment and personnel issues.
Tap Authors for Excerpts
Another fair content trade: barter with a book author for use of an excerpt. Over the past six years, Soto says she has done this four or five times (around once annually) to fill a four-page feature story slot.
Rework Presentation Materials
"The majority of our content was freelanced out," says Saxton of her experiences at the ABA titles, stressing that freelancers were unpaid. In need of inexpensive, quality content, Saxton relied on conference presentation materials from industry veterans for potential fodder. "I would write the outline of the story based on a presentation, and then have the speaker or expert fill in the rest. It was, of course, the speaker's bylined piece, and generally at no cost to us," she says.
Subscribe to a Listserv
Soto relies on Indiana University-hosted the Land Trust Listserv, run by academic Tom Zeller. Subscribe to  a listserv through a local university or organization to determine issues top of mind to your readers and scout for magazine departments and column copy.
Contract Locally
While Getty Images is particularly good for bulk purchases, Saxton recommends contracting with independent, local illustrators for the best prices. While this can range from a talented art student to a pro, she says that "for a cover illustration, we tended to pay around $500 and up, while Getty was usually $1,000 or more."
Solo Editor Support Group
Join the Yahoo! Group http://groups.yahoo.com/group/aloneatthehelm
to ask questions and trade info with other association publishers who are going it alone.
Meet the Author
---