Florida Sports and Fitness Mag Increases Circulation by 150 Percent

Ups frequency, plans to relaunch Web site too.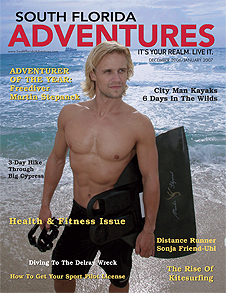 South Florida Adventures, a glossy outdoor sports and health/fitness magazine serving three Southeastern Florida counties (Miami-Dade, Broward and Palm Beach), is increasing its controlled circulation of 10,000 copies to 25,000 copies. With this change in circulation comes an upped frequency, from bi-monthly to monthly. This is the first change in circ and frequency since the magazine's launch in June 2005.
"Magazine publishing is a tough business but we've been doing a good job with production and business keeps growing. Readers are hungry for our content," said editor and publisher David Raterman in a statement. The magazine's writers and photographers have contributed to high-profile magazines like Men's Journal, Outside, and National Geographic Adventure.
Ad rates will increase by 40 percent to encourage buy-in from more ad agencies and larger companies. SFA is also planning a relaunch of its Web site, to include an archive of magazine stories, a forum for athletes, an affiliates page, and other elements.
Copies of SFA are distributed evenly between gym/fitness centers and bicycle, running, scuba, kayaking and other sporting goods stores. The Marathon of the Palm Beaches requested 7,5000 copies for its December 1-2 event, and the A1A Marathon in Fort Lauderdale has asked for 5,000 for its February 15-16 event. The magazine has almost 400 subscribers.
Meet the Author
---