Florida Magazine Association Conference: From Parodies to Plagiarism to Social Media

A mixed bag from regional group's annual conference.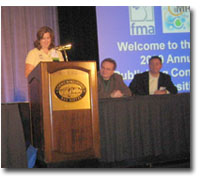 The Florida Magazine Association annual conference opened last Thursday with a keynote from Florida Trend publisher Bruce Faulmann. He concluded: "When people are doing parodies about what you do every day, you know you have some issues and some questions."
Faulmann's presentation featured an extended video parody of the state of the media industry to the tune of the Don McClean song, "American Pie."
Sample lyrics: "And old ad boys were drinking martinis dry, singing tech has taken us for a ride." Or, "Do you believe in ROI and can click through keep your CPMs high?" Or, "We sold ads in the magazine, by taking buyers out for 18. And now the budgets are so damn lean."
Attendance Dips, Slightly
The FMA event, one of the largest annual conferences among the regional publishing associations, was held in Orlando. It attracted about 120 attendees and 24 exhibitors—18 of which were printers. Last year, the event had 150 attendees and 31 exhibitors. FMA is 55 years old and has more than 200 members.
"The event was terrific this year," said FMA president Liesl O'Dell. "You wouldn't have known it from attending our conference, but at least two other major publishing organizations cancelled their main conferences this year due to the economy. When we learned of those cancellations, the FMA board discussed them, but came to the same conclusion: The FMA exists to help its members. Canceling our conference wouldn't help them at all. Of course we all anticipated a little dip in our attendance because of the economy, but to be honest, our numbers didn't go down that much."
Find Your 'Clear Niche'
Faulmann's presentation captured the mood of attendees, mixing optimism and humor with an acknowledgement that 2009 has been a tough year. "If you want to survive in this cluttered mess, you've got to be relevant," he said. "As we look forward, we need to look hard at what we do and find what our clear niche is."
Florida publishers, and Floridians in general, have been hit hard, he said. "All over the place, Florida is getting a black eye. One million people are out of work. We have 10-plus percent unemployment that will continue through 2011. Many jobs are not coming back, and Florida will not lead the country out of the recession, as it has in the past," Faulmann said. "Florida has always been a boom-and-bust state, and right now, we're in a bust."
Social Media Passion
At a luncheon keynote, a panel of industry leaders, including Newsmax editorial director Cable Neuhaus, Go Forward Media president Dave Iannone, and Holly Bourquin of Better Software magazine, discussed social media.
The first question was how to manage employee productivity in an era of social media. Bourquin suggested that clear policies be created, including prohibiting the use of a personal account for company business. Neuhaus suggested that there's no harm in employees engaging in social media during the work day. "If they've done their job, they've done their job. Just be ethical about it," Neuhaus said. Iannone recommended repurposing employees' interest in social media for company benefit. "Get them to use that passion for you," he said.
 
Panelists were also asked to evaluate the benefit of social media for a magazine, beyond just being there. The primary value is the interactivity, panelists agreed, with Iannone adding that social media is an effective way to extend a brand a build a new audience. "People who might not read your magazine might engage with you on Facebook, Twitter or You Tube," he said. "These are the people who might be your audience in five years."
Then the panel was asked: Do you know of any magazines that have positive ROI from social media? Bourquin's response was the best. "The better question is, 'Do you know of any magazines that do not?'"
Ethical Editorial
Meanwhile, in a session on journalism ethics, Linda Marks, publisher of Special Publications, which publishes Ocala magazine, described the title's reaction after the high-profile case earlier this year when it was discovered that the longtime editor, Heather Lee, had been publishing plagiarized work for years. Lee was fired after a review of the allegations, but the case generated national publicity and saturation coverage in the local market.
"I call it my personal 9-11," Marks said. "As soon as we go a hold of those clips, we called her in and confronted her. She said it was inadvertent. We couldn't see how it was inadvertent to copy paragraph after paragraph after paragraph."
The discovery occurred a week before the next issue was set to go to the printer, which created turmoil as the editorial effort was without a leader and all the material for the upcoming issue needed to be vetted, Marks said. The company ended up buying a software program designed to identify instances of plagiarism, and to attack the issue head on with a cover story.
In the end, Marks said, the magazine only lost a few advertisers, and some of them used the plagiarism episode as an excuse for dropping out because of their own economic challenges.
Meet the Author
---