Flipboard is making waves in the same ecommerce market many believed Pinterest had cornered. The personalized e-magazine platform introduced its newest content category—shopping catalogues—to much fanfare Monday, by debuting a slew of new titles with celebrity curators and allied brands.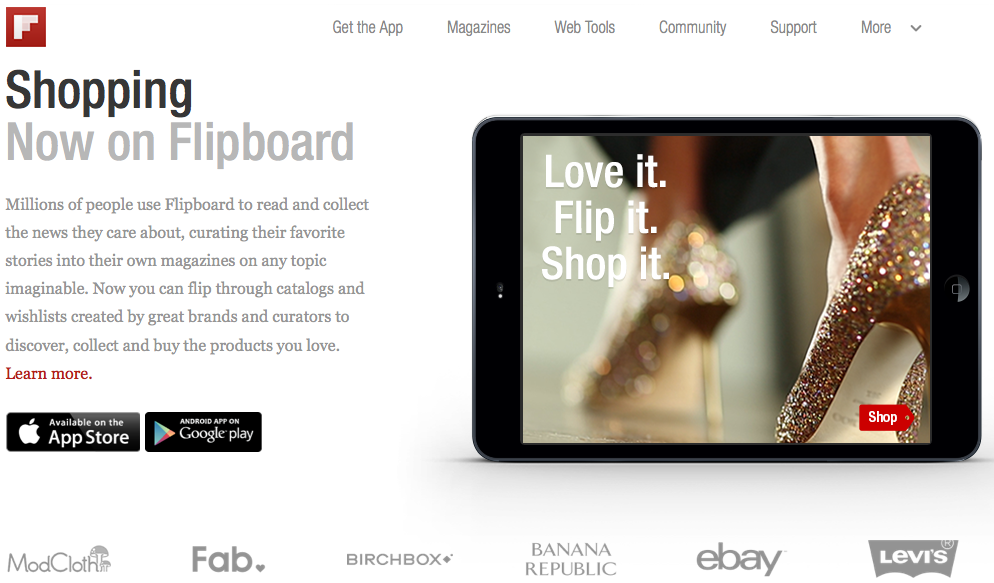 "User studies show that people want to shop on Flipboard," says Mike McCue, CEO of Flipboard, in a release. "Since the introduction of magazine curation, one of the most received requests is to add products to a magazine."
Flipboard's editorial team curates twelve new titles on topics like women's wear, toys and electronics. In addition to the dozen, fashion designer Cynthia Rowley, singer Sara Evans, chef Daniel Boulud and actress Alyssa Milano also curated Flipbook magazines that include their own lists of top products. Brands like Levi's, Etsy, Banana Republic, Birchbox, eBay, Fab and ModCloth have also launched their own shopping catalogues.
"By partnering with retail brands that understand the value of curation and presentation, we are able to kick off shopping with some incredible new content for our readers to browse, buy or share," McCue says.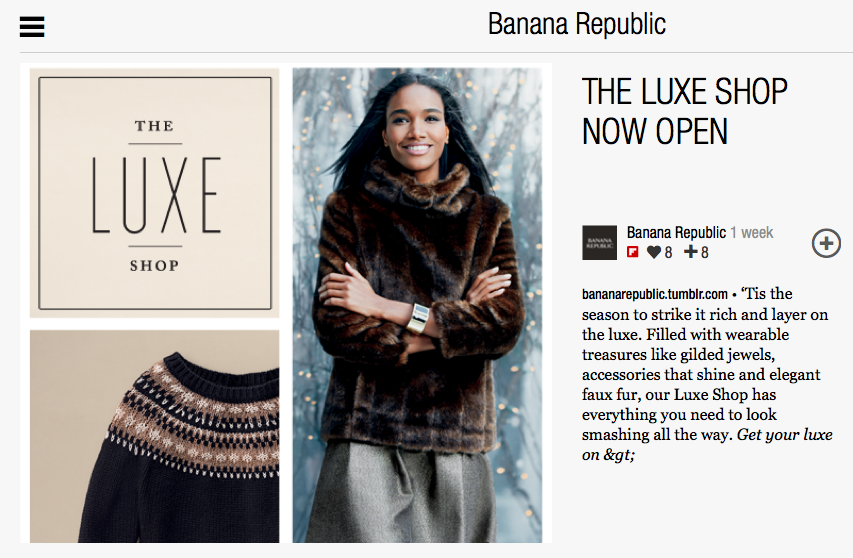 The Palo Alto-based personalized digital magazine platform has been expanding its offerings in various ways so far this year. In August, Flipboard worked with Hearst Magazines Digital and Esteé Lauder to launch a brand magazine centered on Esteé Lauder's new Advanced Night Repair product line featuring articles from various Hearst brands including Elle, Harper's Bazaar and Marie Claire.
See Also: Hearst, Estée Lauder Launch Flipboard Brand Magazine
This new expansion moves Flipboard, which raised $50 million in series C funding in September, further into the ecommerce category with more targeted access for readers to discover, collect, catalogue and purchase products directly from the magazines. Alongside the launch is the upgraded "flip.it" browser button that allows curators to add prices to products as they are being viewed. Pinterest, now valued at $3.8 billion, recently unveiled their "product pins" featuring sponsored content from advertisers that include product-pricing information, as well.
Despite the head-to-head to gain market ground, Flipboard's mobile appeal with catalogue pages that look more like print magazines than an online store and its strong relationship with a growing list of retailers could very well help the company chip away at Pinterest's appeal. Either way, the company looks to continue growing—and fast.