Flipboard has officially made the leap from consumer to creator with the launch of its 2.0 version, but has taken steps to solidify its bottom line at the same time.
Most notably, the platform now resembles a social network. It's moved beyond its origins as purely a consumption tool and, with its focus on curation, has drawn comparisons to Pinterest.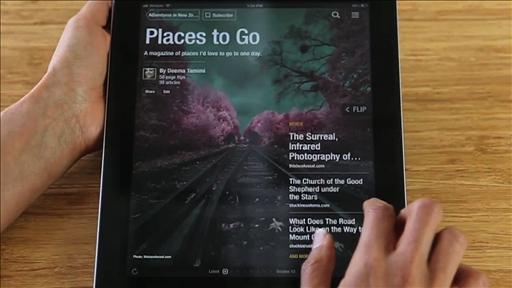 "Starting now, it's also a great place to share opinions, save favorite stories, and express your point of view," says Mike McCue, CEO of Flipboard. "This is our biggest release ever and one that we think will open an entirely new experience for our readers."
Users can now click a "+" button in Flipboard or install one on their browser to curate a personal digital magazine from the Web. The collections are public by default (although they can be made private), so every "+" will be visible. Users can also subscribe to each other's magazines and the platform is searchable by topic, user or hashtag.
The new search feature, called Content Search, creates its own magazine based on whatever term users are looking for.
"We will surface partners' content more prominently in search results," McCue says in an interview with The Guardian. "But we are trying to find the right balance between curation, and providing the search and other mechanisms to bring in content from other sources."
Recommendations, expected to be another large driver of traffic, will be based on both human curation stats and algorithms.
Entering Ecommerce
Flipboard also took a quiet, but potentially significant step in ecommerce, along with the redesign.
At the back end of its release, the company announced it has partnered with Etsy, an online shopping network, to allow for easy sharing and in-app purchases across the two platforms. A "buy" button will appear within the content, and Flipboard gets a portion of the sales.
Flipboard's current revenue model is based on sharing ad revenues with publishing partners.
The Etsy partnership was the only one announced this week, but it's a potential source of revenue for publishers who have similar ecommerce arrangements on their own.
For Etsy, it's their second partnership with a major social site. The company used a similar strategy with Pinterest and, according to a study by Bizrate Insights, accounted for almost 20 percent of all sales coming from image-based social network.
To stay updated on the latest FOLIO: news, become a Facebook fan and follow us on Twitter!