Flipboard Adds Curated Video Channels

Six new TV categories added from publishers such as the AP, NPR and ABC News.
Flipboard, the personalized magazine creation app, has released a collection of curated video sections called "TV." The sections are arranged under broad topics like Cooking and Science and aggregate content from YouTube channels.  
The move stretches a bit the platform's content format offerings, but when you're in the aggregation and curation game, why not video?
And with plenty of existing content coming from dedicated online publishers like Pitchfork or from more traditional outlets like NPR, Food Network the AP and ABC News, the new channels are simply another way for Flipboard to expand consumer content choices while also acting as another distribution channel for publishers.
Currently, Flipboard's new video categories include Cooking TV, Influencer TV, Music TV, Science TV, News TV and Catwalk TV.
The new TV feature comes just as Flipboard turns two years old. And it released some metrics to mark the occasion. The platform currently claims 20 million users and 3 billion "flips" per month. One new user is added every second, each user spends 86 minutes per month with Flipboard and 1.5 million use it daily.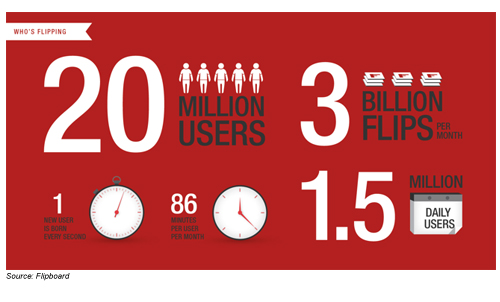 For the rest of the infographic that shows more highlights from its two-year run, including international usage, visit Flipboard's blog post about it.
Meet the Author
---