Flip.com Flops Focus for Facebook

CondeNet site reshaped as social networking application.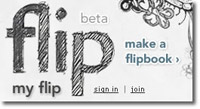 Flip.com, touted as CondeNet's "MySpace for teenage girls" when it was launched last February, announced today that is shifting its focus away from its destination URL toward popular social networking platforms like Facebook and MySpace.
The company has developed a Flip Facebook application and plans to focus its marketing and development efforts on similar products "with the goal of increasing the overall audience for the brand." That audience, it appears, likes Facebook more than Flip.
According to CondeNet president Sarah Chubb, "there are millions of potential Flip fans on Facebook and other social networking sites. This is the right moment to follow our audience."
CondeNet—the parent company of Style.com, Epicurious and Concierge.com—was one of the 12 landmark partners for Facebook Ads when it launched in October.
Meet the Author
---