In-Flight Magazine to be Available on Newsstands

With a $3.99 cover price, Delta's relaunched Sky expands to bookstores.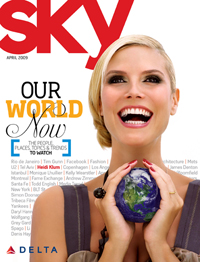 Following the merger of Delta and Northwest Airlines, Minneapolis-based MSP Communications has relaunched Delta's Sky magazine. In addition to being available on the planes, Sky will also be available for purchase on newsstands—a first for U.S. in-flight magazines, the publisher says.
MSP, which won the contract to relaunch Sky late last year, says 15,000 copies of the monthly magazine will be available in stores like Barnes & Noble, Borders and B. Dalton. The cover price will be $3.99.
"Our goal is to reinvent the in-flight magazine," Sky editor-in-chief Jayne Haugen Olson said in a statement. "Though most readers are on an airplane, Sky offers page-turning content and interesting service-oriented take-away tidbits that are relevant to all travelers."
Delta carries approximately 13 million travelers monthly. MSP expects Sky's monthly readership to be between 5 million and 6 million.
MSP was awarded the contract to publish Sky in December, replacing Delta's longtime partnership with Greensboro, North Carolina-based custom publisher Pace Communications. MSP also publishes Mpls.St.Paul magazine.
Meet the Author
---