Five W's of Effective Prospecting

How to cut through the clutter and find your best-bet advertisers.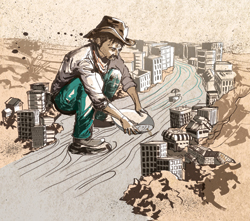 In a climate where ad dollars are drying up rapidly, sales teams are forced to take a more critical look at prospecting process. When seeking out potential advertising partners, five "w's"—who, what, where, when and why— of prospecting can narrow down the search. By looking at who has the money to buy, when they are looking to advertise, in what medium, and where they are looking to be in 5-10 years. And most importantly: why should they choose you?
National Geographic has taken to "the old way of doing things," says senior vice president and publisher of National Geographic Magazines, Steve Giannetti. "Pick up magazines and start tear sheeting," to effectively prospect, he suggests. Nick Palazzo co-CEO and co-founder of young male sports network, STACK Media, agrees with tear sheeting, as well as "using the resources available, like Publishers Information Bureau, to find the best leads and introduce them to our property if they haven't already been with us in the past."
While many flooded media markets are feeling the advertiser push-back on spending, STACK, which increased sales nearly twofold in 2008, is focusing on brands that are looking to spend in the sports category but have not yet targeted the young male. "Essentially, we are not only selling our property, but the market we serve—active, young males who are the influencers in their respective peer groups," says Palazzo. Lately, Giannetti has seen a big boost in business by focusing on having a few members of his sales staff focused on calling clients. "It's not about the 20-page dek anymore—it's about the advertiser saying 'here's what we have, you tell us what you can do for us.' We are talking partnerships."
Sell Atypically
For the most part, STACK Media's on-board advertisers are typical of the market, including Champs Sports, Academy Sports, Sports Authority and POWERade. However, recently, some like Campbell's Soup and Above The Influence are part of the company's effort to reach "non-endemic advertisers." In the case of these advertisers, Palazzo says that it has been a "long sales process" to help the brands understand STACK's Generation Y market and its importance as part of their overall media buying strategy. Ranked ninth in a list of the Top 10 Sports Internet properties in December 2008, STACK Media's overall strategy includes a bimonthly magazine, an online presence, and STACK TV, an online video platform with originally-produced content. The challenge in converting Cambell's and Above the Influence from potential candidates to actual advertisers was to show that in the same way they advertise in publications targeting older men, STACK could fulfill a new, plentiful niche.
"We're approaching the market much more agnostically," says Giannetti. With titles seeing uneven advertising spend—flagship National Geographic dropped 4.9 percent with ad pages down 6.5 percent and National Geographic Adventure and National Geographic Traveler saw estimated ad spend up 12.5 percent and 8.4 percent from 2007 to 2008, respectively, according to Publishers Information Bureau figures—publishers are now looking at who is going to spend money across the board, not just in print. "Don't worry about getting pages or online impressions. Many times, publishers will just see money through events," he says. Despite the cuts in T&E impacting the industry, "That's where we are getting the highest level," he adds of the event platform.
Giannetti is also prospecting beyond the magazines' typically targeted advertisers for business.
Recently, the media company struck up a partnership for an upcoming issue of National Geographic with a well-known package goods company. "It's definitely a different type of client," he says. National Geographic also recently became involved in a foray with a camera company—a relationship that developed through networking with the company's communication department. "We utilize our public relations and communications departments. They know the most about what other companies are doing," says Giannetti.
Throwing out targeted media lines and pulling in potential advertisers may seem old hat for larger consumer titles. But for small niche publications, like 8,000-circulation trade Sound and Vibration, leads can be incredibly hard to come by. With advertising down 50 percent in 2008, editor and publisher Jack Mowery is depending upon the five annual shows that the magazine participates in to keep them afloat. With show sponsors that mainly include its target market, engineers, these conferences and events provide fodder for a show issue that the company is able to sell against. "Many of our current and potential advertisers are attending these conferences, so by attending I can get more done on a sales basis. In the past 10 years, I've never been at a booth—I'm there, on the floor, selling."
Tools of the Trade
In what he calls a period of "chop wood and carry water" for sales staff, Giannetti's seen "nothing earth-shattering" on the technology front to help publishers with the daunting task. However, upgrades to current technologies just may help hone in on one or more of these five essential questions.
The first: Investing in database systems, like Datafest Technologies, Techweb and Uniflip, which can organize and categorize content. Giannetti's sales team uses Advertising Database to search by companies and brands, new targets, changes in personnel, events, and "by combining behavior and laser-targeted content delivery to derive more revenue from an existing base," he says. Another tool down the pike will be the digitization of Publishers Information Bureau information, anticipated for 2010.
Early Engagement
"Before, it was so much easier," says Giannetti. "It's not like that anymore. Publishers are selling month-to-month." Due to the reality of precarious budgets, prospecting may have to be incredibly flexible and forward thinking. Giannetti has made connections by asking advertisers what their strategy is in the future. "Almost seven out of 10 sales calls start with [the advertiser] saying 'we can't talk about this year; we have to talk 2010.'"
Of course, 2009's industry mantra—integration—holds true. If National Geographic plans a major feature around the Titanic, its TV channel will also do two-hour special, in addition to its online entity having "a hand in the pot," he says.
The goal, of course, being to target an advertiser audience in all media through the NG lens. Giannetti, whose division deals with these integrated sales, sponsorships, partnership deals and programs, says that the problem lies in the lack of spending day-to-day. That said, it's all about longterm forecasting.
Palazzo anticipates similar year-over-year growth from 2008 to 2009, adding that: "An integrated package may not result in a print and digital buy, but it is the promotional power of the multiple platforms that helps to get deals done."
SIDEBAR
PIB Digital Initiative
While there may be no magic solution for prospecting in tough times, an effort to digitize Publishers Information Bureau data by the MPA could be a great resource for sales teams by offering instant access to stats.
In an ongoing process for the past few years, TNS Media Intelligence has built an electronic highway with assistance from IdeAlliance to digitize Publishers Information Bureau numbers. The first publication to report fully digital for PIB will be Barron's in March of 2010, says Wayne Eadie, president of the Publishers Information Bureau. Publications already on board include Newsweek, Budget Travel, TV Guide, Spectrum, More, Entertainment Weekly and Technology Review, with about half of the PIB member publishing companies in some stage of moving toward compliance, says Eadie. "It is too early to announce when this initiative [digitization of ad page and spend data] will be fully operational," he adds.
Sales Assistance?
While it may still be a year away, this digitization of advertising page and spend data will make the turnaround for reported data a few days, not weeks, meaning that the service offers real-time reporting rather than an historical record. In terms of prospecting, sales can get greater accuracy with the elimination of manual coding and processing. Another big upside: internal efficiency. Publishers can reallocate employees to other tasks providing greater efficiencies for the publishers depending on these figures.
Meet the Author
---