Five Steps Toward Greening Your Magazine

A printer's perspective.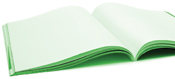 One of the places to start is to review the entire design, production and distribution supply chain. Here are some areas that can help green your process:
• Inks and Coatings. Using Low Volatile Organic Compound (VOC) inks is better than before. Aqueous coatings protect magazines with minimal impact.
• Paper. Papers certified under one of the main Sustainable Forestry Management Programs, such as Forest Stewardship Council (FSC), Sustainable Forestry Initiative (SFI) or Programme for the Endorsement of Forest Certification (PEFC) ensure that the paper has been manufactured using environmentally responsible forestry and manufacturing processes.
• Retail Distribution. Use store-level sales data to optimize print orders. Don't try to send copies over the requested amount unless you have compelling data.
• Mailing Lists/Co-mailing. Update your mailing lists and use good list hygiene practices.
• Digital Workflow. Going 100 percent digital eliminates film, chemicals and proofing materials as well as the fuel used to transport proofs back and forth.
Most importantly, self promote. Having readers understand what steps you have taken to green production and distribution will have an impact on ad sales.
Bio: Bruce Jensen is group vice president of sales for Transcontinental Printing's Magazine, Book & Catalogue group.
Meet the Author
---